If you were in a long-term relationship with your ex (longer than 6 months) and your ex has left you for someone else, then your ex basically monkey-branched from one relationship to the next.
He or she left you for someone new and unknown and now wants to make it work with that person.
But before you go knocking on your ex's doors and asking for another chance, you need to collect your thoughts and remind yourself that your ex chose to leave for someone else.
He or she left for due to high attraction and won't come back at least until his or her new relationship fails.
That's why I urge you not to make a fool of yourself and avoid making any typical post-breakup mistakes.
Keep your pride and self-esteem and show your ex that his or her betrayal doesn't affect you.
Do it to exude confidence and high self-esteem.
So if your ex left you for someone else and you're wondering what you should do, this article will provide you with some clarity.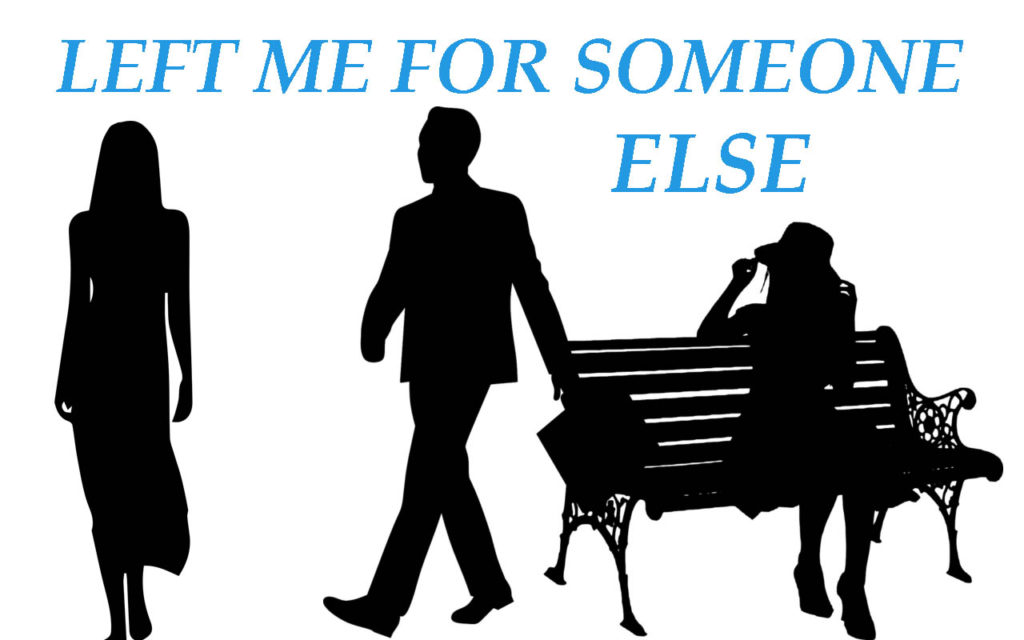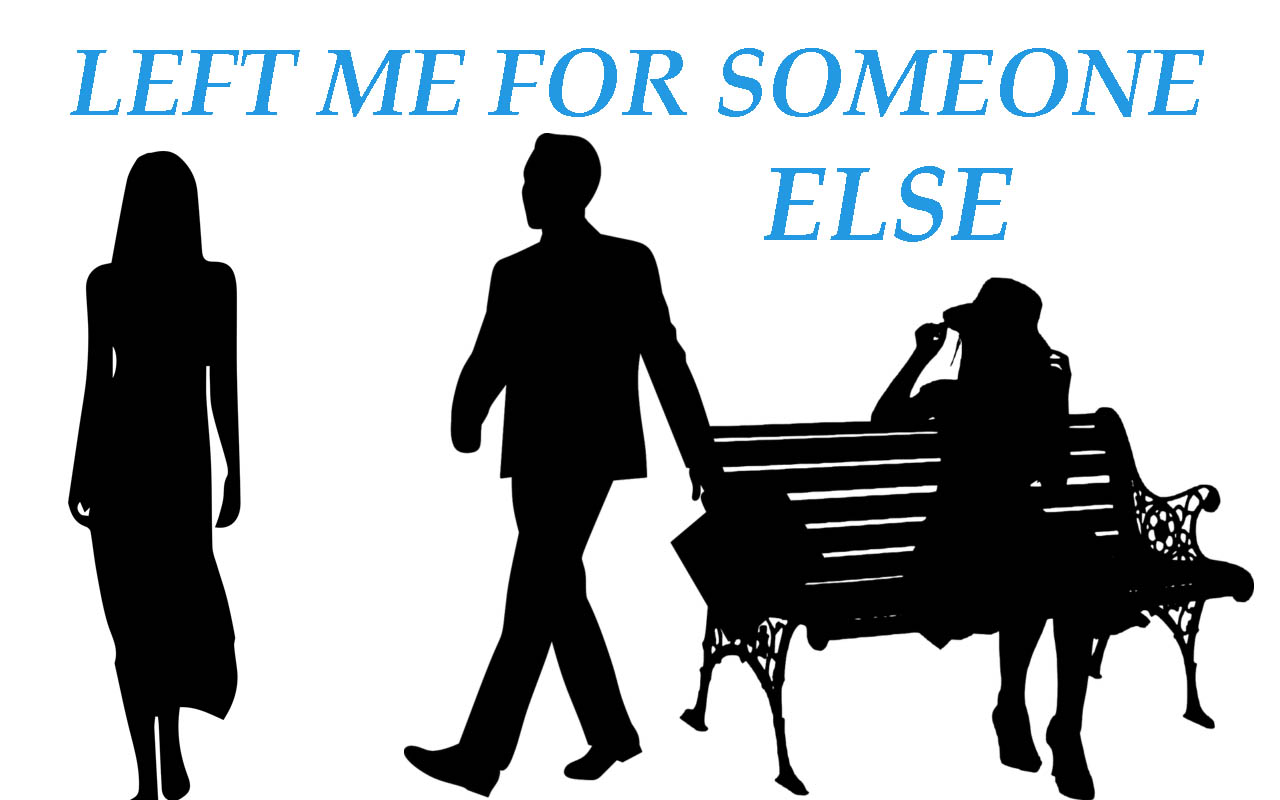 My ex left me for someone else. What do I need to know?
When your ex leaves you for someone else, it's almost never a spontaneous decision.
This new person had likely been in the picture for days, if not weeks, prior to the day of the breakup.
He or she had probably been talking to your ex and getting to know your ex way before you even found out about him or her.
Maybe your ex even told you that you have "nothing to worry about," that you're being jealous for no reason.
But no matter what happened, your ex had been conversing with this new person and had basically been emotionally cheating on you.
And that's why you really need to think about whether you want someone like your ex back.
Ask yourself whether your ex is even worth the wait and another chance—and if you can trust him or her again.
Think about what will happen if your ex breaks your heart again and leaves the second time.
These are the things you need to figure out while you're following the rules of no contact.
Your ex devalued you and left for someone else
When your ex left you for someone else, he or she no longer loved you.
Your ex felt more attracted to someone else and decided to give it a shot with that person.
Your ex basically wanted to be in a relationship with someone else so badly that he or she couldn't even end your relationship the right way.
That's because your ex didn't have it in him or her to do what's right.
Your ex could have pulled back when he or she felt that he or she was starting to develop feelings for someone else.
But your ex didn't.
Instead, your ex just went along with it until it was too late.
So if your ex left you for someone else, you need to consider your ex's actions. Think hard about your ex's relationship mentality and whether you can even forgive him or her.
Your ex had enough time to think about leaving you
Nobody makes an instantaneous decision to start dating someone new right away. Especially not when it comes to leaving for a complete stranger.
When your ex breaks up with you out of the blue, it means that proper attraction, feelings, and chemistry with another person has already been formed.
Taking a leap of fate would be crazy for your ex.
Your ex would never kick you to the curb if your ex wasn't 100% sure that he or she could date this new person.
Normally, by the time an ex breaks things off, he or she is already officially in a new relationship. It's called monkey-branching from one tree to another and it's disrespectful and dishonest to be treated that way.
You need to know that your ex has basically emotionally checked out of your relationship without telling you, and probably even exchanged flirtatious messages with this new person.
Such a person is a low-integrity coward!
People will always show you what they think about you.
And the good thing about it is that you don't even need to hear them speak to figure out their true intentions.
The same goes for your ex.
Actions speak for themselves, not words.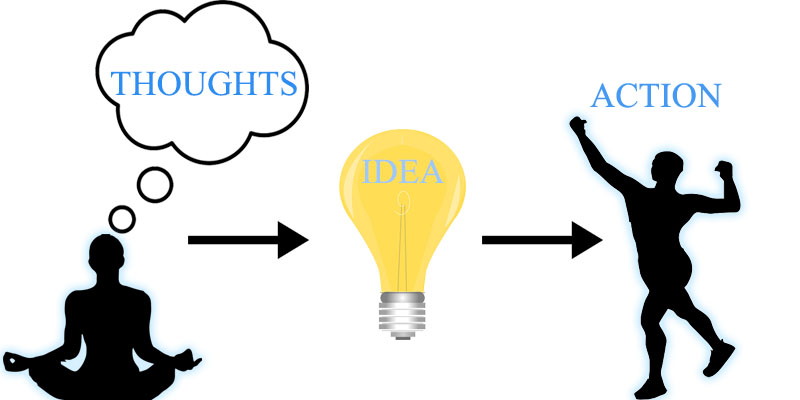 Here's an example.
Today, your girlfriend tells you that she loves you. The next day you catch her with your best friend and you find yourself utterly confused.
Her actions aren't in line with her words.
So by observing a person's actions, you can immediately tell what your ex feels about you.
You need to remember that actions cannot exist without a preconceived idea unless it's something that's done subconsciously as a part of a continuous pattern (habit, routine, etc).
So when your ex leaves you for someone else, you can be certain that your ex has thought about the decision long and hard.
It may be an emotional decision, but that's only because your ex has connected to another person.
He or she has had more time than he or she needed to do the right thing and decide whether he or she loves you.
And that's why we can say that in the end, your ex didn't love you enough.
You were belittled
If your ex has left you for someone else, you got a hard slap in the face.
Now that your ex cheated on you, you most likely feel deeply hurt, sad, and angry.
But no matter how hurt you are, you must not act on impulse and hurt your ex back.
You must instead ask yourself, "Do I really want someone like this as my significant other?"
If the answer is yes, you must not beg and plead your ex to reconsider his or her relationship with you.
Insecure pleas will only fall on deaf ears and cause your ex to respect you even less.
You need to remember that your ex holds all the cards in your post-breakup predicament and that the only thing left for you to do is to accept the breakup and walk away with pride.
It's okay if you feel a bit disrespected, belittled, and insignificant after your ex has cheated on you. You're a human being with emotions after all.
It's also okay if you tell your ex that you don't want to be friends and that you are going to leave his or her life for a long time.
But no matter what you decide to do, please understand that it's never okay to call your ex names or to plan revenge against your ex.
Retaliating in such a nasty way will make you as bad as your ex. Maybe even worse.
Inwardly, your ex might eventually want you to chase him or her.
That's because your needy actions have the power to fuel his or her ego.
But don't do it no matter what!
Once you learn that your ex is leaving you for someone else, announce to your ex that you are cutting him or her off.
Do this in a respectful way, of course, and take action right away.
Immediately go indefinite no contact and be prepared to stay in no contact forever.
I know you may not want to leave your ex alone forever and that never hearing from your ex again frightens you, but there is no other way.
No contact is the only way to regain your self-esteem and hopefully make your ex realize your worth in the long-run.
So if maximizing your chances of reconciliation is what you're after, leave your ex alone and focus on you.
Do it even if you want to stay friends with your ex because you first need to heal and recover.
30 days NC?
You've probably seen internet sites that promote the 30-day no-contact rule.
The thinking here is that you go no contact for 30 days and then message your ex with positive memories from your days together.
Proponents of this 30-day no contact rule claim that it will help your ex reconsider his or her relationship with you.
But the truth is that if you follow this 30-day no contact strategy, you'll likely only push your ex further away.
Thirty days is not nearly enough time for your ex to miss you or to appreciate how you constituted to his or her life.
So avoid additional heartbreak and stay in no contact indefinitely!
More like 30 years!
You must be prepared to go no contact for as long as it takes for your ex to reach out to you.
This is especially true if your ex left you for someone else and disrespected you beyond belief.
When your ex leaves you for someone else, you need to take a giant step backward and realistically assess your situation.
You need to realize that your ex decided that he or she had no future with you.
And to make it sound even worse, you were cheated on—which is the emotional equivalent of a sucker punch.
Your ex's actions have shown you that he or she sees no relationship value in you anymore.
So please remember that you shouldn't tell your ex that you are invaluable by breaking the no contact rule and reaching out.
You will only send your ex a message that he or she can treat you horribly and that you're coming back for more.
This is why you need to maintain no contact at all costs.
Yes, no contact is difficult and there might be days that you think it's impossible.
But know that it's not impossible. Thousands if not millions of dumpees such as yourself are following this rule.
So you can as well.
Indefinite no contact actually the only way to gain back your self-respect that your ex has destroyed on the day of the breakup.
That's why you now need to focus on healing from the breakup and demonstrating to your ex that you will not allow yourself to be treated in such a disrespectful way ever again.
And while you're recovering in no contact, remember that your ex has no value to you unless he or she reaches out to you first.
Do you really want your ex back?
You now know that when your ex leaves you for someone else, your value significantly drops.
The truth is that to your ex, you become just another person who wants him or her desperately.
And this is one of the reasons why your ex doesn't want you back.
But that's okay!
What truly matters is that your opinion of yourself stays the same.
Have you ever heard of the phrase, "How you treat yourself, others will treat you?"
Basically, when you disagree with your ex and believe in your own worth, your mental state will not be negatively affected.
By staying in this self-respectful state by walking away from an ex that left you for someone else, you scream of "badassitude" and high confidence.
I know it can be excruciatingly painful to feel easily replaceable by this other person.
You might even be thinking to yourself, "He is so much better than me. He has a better job, a nicer car, and is more outgoing."
You're either thinking that this person is better—or perhaps the opposite – that he or she is worse.
You could be thinking that she's uglier, has no friends and neglects her kids."
If this is what you're doing, know that it's "normal" to compare yourself to this new person.
And even though it's normal, it's completely pointless.
You have absolutely nothing to gain by comparing yourself to someone who's not even competing with you.
You need to realize that what you see and hear about your ex's new partner is mostly superficial.
It takes 4 – 6 months to get to know a person. And that's why it will take your ex just as long to see if they are compatible.
If a shiny car and a great job were all it took to stay happily married, there would be no divorces.
Take a look at rich people for example. Most of them have been divorced countless times already.

When you are left and "replaced" by someone else, your ex knows absolutely nothing about that person.
He or she is starting from scratch again, hoping that he or she won't regret his or her decision.
It's essentially a gamble.
Most people aren't meant for each other, so finding the right person is a lot harder than it seems.
About 80% of couples don't work out, and your previous relationship is proof of that.
You need to know that if you eventually reconcile with your ex, you will basically be starting a new relationship with your ex.
But before you start a new relationship, you need to wait long enough for your ex dumper to learn a lesson and respect you again.
It's the only way for your relationship to have a proper shot.
Will my ex want me back?
If you were a nice person and lived to contribute to your ex's happiness, chances are that your ex will come back around.
Just because your ex left you for someone else, doesn't mean that the same or something worse can't happen to your ex ex.
As a matter of fact, your ex could come running back for validation and all the wrong reasons you can think of.
The only problem with this is that so very few dumpers actually learn their lesson and improve their shortcomings.
Dumpers are often too selfish and caught up in their own world to realize their mistakes.
And if they have an epiphany, they still expect forgiveness even after they've hurt their fellow dumpees.
Some dumpers really go out of their way to make their dumpees suffer as if they were the ones who dumped their exes.
In those extreme situations, dumpees get to see what their ex is made of and notice their ex's true colors.
Anyway, once the dumper has run out of hatred and relief, he or she normally begins to regret his or her malicious actions.
Guilt takes over the dumper and the dumper suddenly avoids all contact with the dumpee.
The dumper does this because he or she is badly ashamed of his or her past demeanor.
Some dumpers with a bad conscience on their minds oftentimes reach out in the form of a breadcrumb and ask their dumper to be forgiven so that they can move on from what they destroyed.
So when your ex has left you for someone else, he or she has to first forgive himself or herself before attempting to patch things up with you.
Knowing what your ex has done to you can feel painful. The amount of guilt on your ex's shoulders can be overwhelming, hence why it's very difficult to fix a relationship after something as serious as cheating.
After committing such a horrible crime, a lot of people run for the mountains rather than attempting to repair what's broken.
I suppose they don't have it in them to fix what they've broken.
Why do dumpers come back?
Many dumpers come back.
But as we've mentioned earlier, they come back for the wrong reasons – themselves.
Some exes come back when their rebound relationship fails horribly or when they get treated despicably by their new partners and life.
When they come running back, you need to keep your guard up though.
They usually return to ease their anxiety and make themselves feel stronger.
And since they're suffering, they usually choose to run back to the person closest to them romantically.
Normally after something bad has happened, dumpers utter their regret and sorrow and expect to be healed by the dumpee.
So if you were the dumpee, your ex could come running back to you because you were the only person who stayed in love with your ex until the very end.
But you need to remember that when you were in pain, your ex was nowhere to be seen.
He or she was enjoying his or her life without you and dating whomever he or she wanted to.
And now that your ex's ego is hurting, he or she came back to you expecting you to heal him or her.
So if your ex wants you back and you let your ex walk back in, it's very possible that he or she is going to do the exact same thing again after his or her heart has fully healed.
Consider it a warning from me.

If you consider human behavior to stem from selfishness, you will understand that exes always come back to take from you, and not to give.
This means that if you want to be happy, you will need your ex to give his or her best and invest in you.
It's the only way to make your ex connect to you again.
So make your ex work extra hard for you so that he or she learns to appreciate you again.
When your ex leaves you for someone else and he or she comes back, you must also show incredibly high self-esteem by setting new rules and standards.
Set them so high that the dumper is going to be incredibly challenged again.
How do I get back with an ex that's left me for someone else?
I deliberately left the best for the last, because I know everyone wants their ex to come back at least for validation purposes.
So if you're wondering how to get your ex back after he or she has left for someone else, the answer is validation.
When you don't seek validation from your ex and are instead strong and confident in your own abilities, you can make your ex doubt his or her decision about leaving you.
When you remain strong and show your ex that you don't need him or her to be happy, it can play with your ex's mind and coincidentally make him or her crave your intimacy again.
But for that to happen, your ex's new relationship has to fail first. And also, your emotional state has to improve tremendously.
That's because living life happily is the best thing you can do for your ex as well as for yourself.
I know it can feel incredibly painful to pull the no contact rule off successfully when you were left for someone else, so it's okay to cry.
Do it away from your ex when you're alone and get it out of your system.
Grieving in front of your ex, however, is going to make your ex feel guilty. And that's not the kind of emotion you want to stir up in your ex.
Your ex will feel bad about it for a minute or two, but if you continue to show weakness, that guilt is going to turn into validation and a boost of self-esteem.
So if your ex cheated on you and left you for another person, he or she is most likely going through the 6 stages of a rebound relationship.
Because your ex thinks that someone new is better suited for him or her, you must agree with the breakup and stay far away from your ex forever.
Show your ex that he or she is not worthy of your love and attention and that you are not waiting around for your ex to change his or her mind.
You can do this by taking the attention off your ex and show your ex that you won't be his or her back-up plan.
No contact is powerful
When you follow no contact, you indirectly make your ex's partner the main and only priority.
Why is this good you ask?
If you don't do this, your ex is going to think that he or she can get back with you any time and every time.
Your ex will assume that you want him or her back and that all he or she has to do is snap his or her fingers.
Call it tricky if you will, but your ex must not think that you still want him or her.
People don't want what they can have. They secretly want to fight for something they really want—and so does your ex.
Unknowingly, your ex wants that which he or she can't have—so you must become "unobtainable."
By staying away, you allow the laws of the universe to do its magic.
You might not realize it, but leaving your ex alone slowly helps you detach from your ex and hopefully makes your ex realize your worth again.
You need to understand that your detached state is the most attractive state to be in when it comes to getting your ex back.
That's because your ex will respect you more when you allow him or her to do as he or she pleases.
What if I don't want my ex back then?
You probably still will.
The time in no contact will either help you detach completely or continue making you want your ex back.
But only to a lesser degree.
Since breakups are so hard they could kill you, you will likely want what you can't have.
You will crave your ex's love and attention so that you can get a boost of happy hormones and feel empowered again.
This means that your ex-addiction is likely going to stay alive for quite a while.
And if you by some chance realize that you don't want your ex back because your ex has treated you terribly after the breakup, then it's probably for the best.
You must do what's best for you and your future even if it means leaving your ex in the past.
Defense is the best offense
Now you know that there is nothing you can directly do to get back with an ex that's left you for another person.
This doesn't, however, mean that there is no work to be done.
There is always something to work on in no contact. Whether it's correcting your shortcomings, making new friends, getting a better job, participating in more activities, or doing anything that moves your life in a positive direction, there's always something for you to do.
This post-breakup time certainly isn't the time to stay still and wait for things to change.
By all means, grieve and do what it takes to be able to function normally again.
But once you're back on your feet, get out there again and start living your life.
Don't just sit at home and waste your precious time.
Staying on the move will make you feel alive again—and your ex will see that.
So always remember to stay busy so that you get over your ex as quickly as possible and maximize your chances of reconciliation.
Has your ex left you for someone else? Comment below.