If you're thinking "how to make your ex want you back," you've come to the right place.
Some people will outright tell you that you must do this and do that to get your ex to trust you and love you again.
But that's complete bollocks.
Dumpers usually postpone the breakup for so long that when they pull the trigger, they are absolutely certain it's what they want.
Dumpers initiate the breakup because:
They feel emotionally depleted and frustrated from feeling trapped in the relationship.
They spend days or weeks prior to the breakup devaluing their partners.
Their partners continue making the same mistakes and don't fulfill their needs.
They develop resentment toward their partners and often even GIGS due to the negative thinking patterns.
These are the reasons why your ex broke up with you and why you can't make your ex want you back. At least not as long as your ex isn't receptive to hear you out.
So instead of begging and pleading with your ex for another chance, take a moment to breathe. Find the reasons why the breakup occurred and how you played your role.
Only once you've found the answers and you understand where you messed up should you get ready for the next step.
So if you're wondering "how to make your ex want you back the right way," read through this article. You might stumble across some valuable information.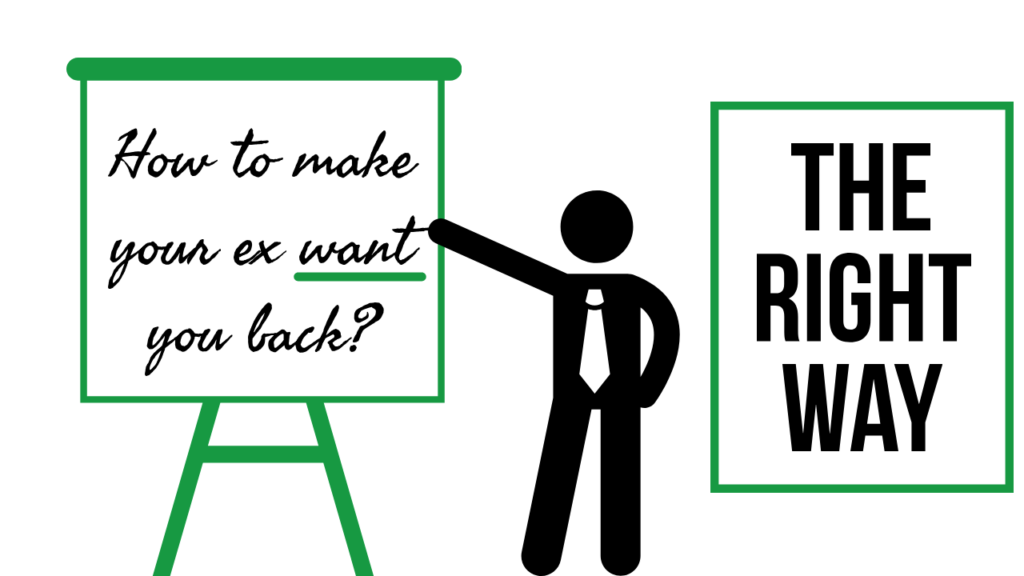 How to make your ex want you back without losing your dignity?
Since you're the dumpee, getting your ex to want you back won't be an easy task. As a matter of fact, it will be far from easy as you're at a huge disadvantage.
That disadvantage is that your ex doesn't want you back. He or she is filled to the brim with repulsive, post-breakup emotions that repel your attempts for reconciliation.
That's why the solution to your compulsive desire to make your ex want you back is fairly simple.
It's called the indefinite no contact rule—which as the name suggests, is indefinite. It basically entails detaching from your ex and the outcome and learning how to love yourself again.
If you truly want the best for yourself, I suggest you start following this attachment-breaking plan immediately. You will be so thankful when you finally see the results of your hard work and commitment.
Please keep in mind that there are no exceptions to this rule. None at all.
It doesn't matter if you did something that brought upon the separation or if you insisted on getting back together after the breakup and ruined your image.
As a person of value and importance, you don't deserve to suffer for the end of the relationship. You don't deserve the pain even if you did something horrible and unjust to your ex.
The breakup hasn't befallen because you need to be punished for your actions.
On the contrary, it happened because your ex wasn't happy.
That's why it's your responsibility to find out what you could have done differently to ensure that your next relationship doesn't go down the same path.
You don't need to obsess over your actions and inactions. All you have to do is become aware of your mistakes and your brain will naturally put them into your long-term memory.
The breakup will teach you a lesson
The pain from the breakup will engrave your valuable lessons into your memory. That's why you don't really need to do anything specific to store them into your subconscious mind.
You do need to, however, think about your mistakes for a while. And when you do, the emotions created by the breakup will make sure you remember them for a very long time.
You just have to want to change and you will without a doubt find the road toward becoming the best version of yourself.
I wanted to point out that people improve the most through pain and suffering. It's the "easiest" way for us to learn because it's actually the hardest.
I hope that makes sense.
As a dumpee, you're likely not as interested in improving as much as you are about learning how to make your ex want you back.
I don't blame you because most dumpees initially want their ex back despite knowing that their ex wasn't the best for them.
They want to learn the magic tricks that make their ex come running back. But in reality, all they're doing is looking for a way to increase their hope.
Hope, however, is not something that contributes to a healthy reconciliation. It's actually quite the opposite as it forces the dumpee to act on instinct and postpone his or her post-breakup recovery.
You can't make your ex want you back!
I wish there existed a step-by-step manual to make your ex love you again. If it did, I would personally print it out and hang it up on every street corner.
But, unfortunately, "making" your ex want you back isn't as simple as saying a few words or doing a few things.
It's actually much more difficult than that because the breakup doesn't even involve you. Your ex basically dumped the breakup on you and forced you to accept the bad news.
That's why you must understand that more often than not, the thing that stands between you and your ex coming back is your ex's mentality. This includes the way your ex, thinks, feels, and perceives you—as well as his or her surroundings.
So hold your horses and get rid of the "I must do something to get my ex back" mentality. You will feel so great when you eventually do.
Remember that your boyfriend or girlfriend, husband or wife terminated your relationship after a lot of thinking. It might have taken your ex days, weeks, or even months to gather the courage to break up with you.
So do your best to avoid opposing your ex or you could end up angering your ex a lot. You might even get yourself blocked on social media if you don't let your ex be.
How to make your ex want you back then?
Instead of making your ex want you back, you must let your ex want you back.
Although making and letting may appear similar to the broken-hearted dumpee, the two terms are as different as day and night.
The former means you force, manipulate, and coerce your ex into coming back—while the latter allows and encourages your ex to see you differently.
Any wise person knows that you should never attempt to force a person to change his or her decision and opinion about you. It usually backfires if you try.
So go with the option that encourages your ex to be who he or she wants to be and don't try to change his or her mind.
Your ex doesn't want, nor need you to inform him or her about making the wrong decision. It's the last thing your ex wants to hear.
What your ex wants to hear instead is that you accept the breakup and that you will be okay on your own. Moreover, your ex also wants to know that you respect his or her need for space and privacy—and that you will be on your way immediately.
Once your ex confirms these things, he or she will definitely feel relieved that you've left him or her alone. Your ex will feel so content because you will:
not make your ex feel guilty
not make him or her doubt that you will be okay
allow him or her a smooth transition from being in a relationship to being single
hold no harsh feelings toward your ex
But how will my ex come back if my ex doesn't feel bad about the breakup?
This is something a lot of dumpees get wrong, so make sure you absorb the following piece of information.
As a broken-hearted dumpee, you mustn't act on instinct and expect to guilt-trip your ex to want to come back.
It wouldn't be much of a free choice now, would it?
You can't do this because negative deeds, such as annoying, forcing, begging, threatening, pitying, and jealousy tricks have a repelling effect on your ex.
Your ex is already hurt and overly sensitive from your negative habits. So expecting your ex to want to come back after you've displayed even more negative behavior is crazy-thinking.
Your ex doesn't want more drama in his or her life. And when you provide your ex with more drama, guess what that does to someone who quit on you because of it?
If you can't think of anything, let's just say it makes your ex feel exactly what you don't want him or her to feel.
It creates more negative emotions that helped your ex initiate the breakup in the first place.
So instead of intentionally trying to trap your ex by making him or her feel awful, there's a way better way to deal with your ex's hatred, annoyance, and discontent.
And it doesn't even involve anything violent, manipulative, or disrespectful.
On the contrary, it requires you to be respectful, kind, emotionally in control, and on your best behavior.
How to make your ex want you back the right way?
Most of the time, people act based on what they feel—not think. That's why "making your ex want you back" won't happen until your ex's feelings toward you change.
But for your ex's feelings for you to grow, your ex must first:
process the breakup (the repelling, victim emotions)
forget about you for a while by living a single life
experience something negative that forces your ex to do some introspect
do whatever your ex wants to do post-breakup
Once your ex has had enough time to experience these things, your ex will slowly start to emotionally let go of the reasons behind the breakup.
And even though these reasons/issues will likely still be there when your ex calms down, your ex won't feel bad about them anymore. He or she will only be aware of them.
That's when your ex will feel better about your breakup—and coincidentally, feel better about you as well.
Steps to take to get your ex to want you back
Since the breakup is entirely in your ex's hands, it leaves you with no choice but to wait for your ex to see you in a more positive light.
But this doesn't mean that you shouldn't be doing anything with your spare time.
As a dumpee, you're empowered with desperation – which is essentially the motivation to change yourself for the better.
In other words, you have been granted the ability to change and evolve as a person once and for all.
This means that even though you may not be able to change your ex's feelings for you directly, you can still start by focusing on that which you can control.
You and your well-being—which is all that really matters to you.
Start by:
going indefinite no contact
detaching from your ex
working on your emotional and physical well-being
correcting your shortcomings
learning about yourself
improving your relationship skills
finding your passion
enjoying life on your own again
getting a promotion/better job
becoming the best version of yourself
By now, you know that the return of your ex is not dependent on how much you want your ex back, so why not let go of hope and give all the love and attention to yourself?
I'm sure you remember how great you felt when you were happy with just you. Or maybe you don't remember because you took that happiness for granted?
Whatever the case, you can't possibly lose by investing in yourself again. It's just impossible.
Exes come back when you become happy with yourself!
The best revenge in life is huge success. And the same principle applies to breakups.
When your ex sees that you don't need him or her to be happy and notices you're thriving, your ex could feel envious of your success. This is especially true if your ex isn't doing that well after the breakup.
In this case, your ex would likely covet your accomplishments so much that your ex would feel as if he or she is missing out on someone great.
That's when your ex would reach out and try to figure out why you're doing so great without him or her. Your radiating attractiveness would therefore quickly attract your ex like it did the first time when you were happy on your own.
And the ironic thing about it is that you wouldn't even have to say or do much. Your ex would be the one that wants you back—and not vice versa.
You must keep in mind that exes come back for themselves first—and you second. They come back when they regret making their selfish decision and want you in their life again.
It may sound selfish—and that's because it is. Love and relationships are selfish as we always want the very best for ourselves—despite being in love with our partner.
So remember that even if you were the one who did something to cause the breakup, your ex would still come back for you. The new and improved you to be precise.
But for your ex to experience the seller's remorse and see your worth, you need to appear strong, confident, and independent.
Only then will your ex start thinking about you with renewed respect again and make the reconciliation possible.
Thank you for reading, and I wish you a fast recovery.