Most of the time, dumpers don't know how dumpees feel. All they know is that they themselves are happy and that they don't mind talking to someone they dumped.
Talking to an ex doesn't hurt them, so they assume that it doesn't hurt their ex either.
This is why they oftentimes strategically breadcrumb their ex-partner without the intention of getting back together and string their ex along for their selfish gains.
If you're a dumpee, you need to understand that dumpers don't necessarily string their exes along just to have an alternative plan in place in case something goes horribly wrong with their life.
They aren't that prudent about their romantic lives.
Dumpers string their exes along because they:
wish to remain friends and don't want to lose their ex completely
get continuous emotional support as well as guilt relief from the person they left
want to have someone to talk to when no one else is there for them
don't understand that dumpees need time to detach and get over the breakup
If your ex is talking to you regularly and you're wondering, "Is my ex stringing me along," know that the answer is yes and no. Your ex is most likely stringing you along, but only for non-romantic purposes because your ex doesn't want to let go of you completely.
Your ex is stuck in a place where he or she doesn't want to commit to you, nor leave you alone to heal.
Why do exes string us along?
Due to extreme suffocation, dumpers don't think about getting back together with the person they fell out of love with.
They instead worry about themselves and think about how they're going to spend their excess time and freedom. It's why they initiated the breakup in the first place – to focus on their wants and needs and to do what makes them happy.
There are, however, some dumpers who initially doubt their decision. They know that they're happier without their dumpee, but they can't help and wonder whether they've given up too early.
Such self-aware dumpers feel bad for leaving their ex-partner behind, so they initially feel a lot of guilt (self-doubting emotions) and mistake their anxiety for love.
They think to themselves, "If I'm hurting this much, it must mean that I'm making the wrong decision. I must still love my ex. At least a little bit"
But the truth is that they don't love their ex. Not even if they tell their ex that they do.
They just aren't happy with their choices, such as the way they handled the breakup, how they treated their ex after the breakup, and how hurt their ex got because of their actions.
Those are the reasons why dumpers feel the need to redeem themselves and string their ex along.
They think that if they show the willingness to stay in touch that they're being considerate of their ex's feelings and help their ex.
But that couldn't be further from the truth.
Unless dumpers selflessly provide dumpees with some kind of detachment support, dumpees are far better off without their exes. They heal many, many times faster on their own because by pushing their ex away, dumpees get rid of the drug (their ex) that keeps them emotionally hooked.
When dumpees realize this and tell their ex that they don't want to stay friends, they make the first step toward happiness and independence. They start to respect themselves.
But some dumpers don't see it that way because they take their ex's friendship refusal very personally. They interpret it as a personal rejection, a slap to their goodwill, and react very poorly to it.
They sharply respond by saying that they wanted to remain in touch and hold on to their meaningful friendship because they would hate to throw away months or years of friendship.
By doing so, they attempt to guilt-trip their ex into staying in frequent contact just so they can continue to benefit from the only person in the world who possesses the ability to help them relieve their guilt.
Little do such dumpers know that it's nearly impossible for dumpees to stay friends with an ex who broke their heart. They don't know that it's extremely painful and detrimental to their health and that dumpees don't feel relieved the way dumpers do.
Dumpees initially suffer from separation anxiety, whereas dumpers feel elated.
Anyway, here are 5 signs that your ex is stringing you along.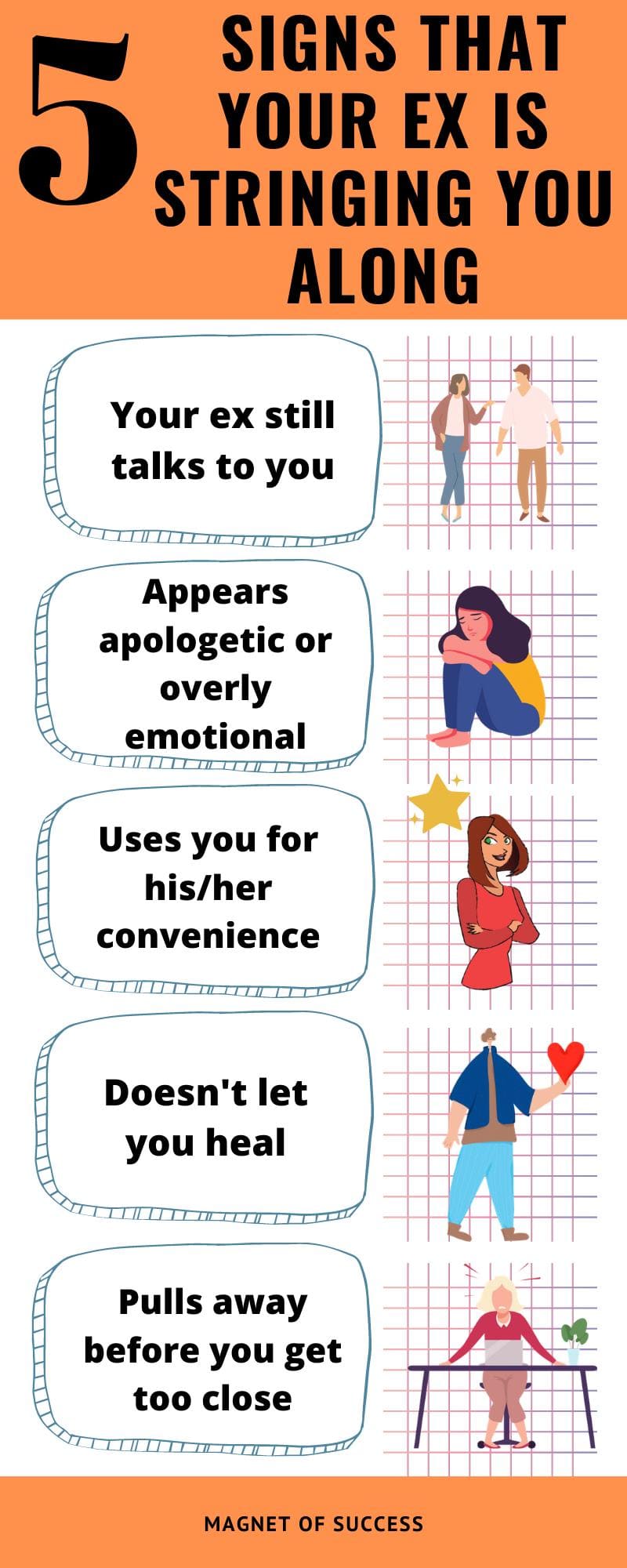 My ex is stringing me along. What do I do?
Many dumpees know that they can't take the first step toward recovery and independence if they stay friends with an ex.
By staying friends, they can only take steps backward toward regression that gives them:
The truth is that staying emotionally connected to an ex doesn't increase dumpees' chances of reconciliation. It instead disrupts dumpees' healing process, confuses them, and puts them through agony and self-torture.
On that note, please keep in mind that dumpees don't need friendship with an ex in order to become happy again.
They need to start following the indefinite no contact rule, which is the lifeboat that stops them from sinking deep in depression and helps them avoid getting caught in a neverending cycle of prolonged hope and self-harm.
It provides dumpees with the best remedy for their breakup anxiety, fears, and worries—as it helps them let go of something/someone they love and allows them to prioritize themselves.
The rules of no contact essentially help dumpees let go of their ex, whereas staying friends with an ex right after the breakup does exactly the opposite.
It keeps dumpees emotionally dependent on the dumper much longer than necessary and strings them along until:
dumpers meet someone new/get tired of their ex and push their dumpee away
dumpees get tired of constant ups and downs and walk away with self-respect
In some amicable breakups, ex-partners decide to stay friends. But they do that only because they've detached from each other long ago, let go of relationship expectations, and hold no negative associations toward each other.
They essentially feel no romantc feelings for each other, so they mutually settle for friendship.
How do I know if my ex is stringing me along?
It's no secret that dumpers who frequently reach out to their exes string their exes along. They may not intend to hurt or manipulate their ex-partners' feelings, but they nonetheless obliviously give their exes false hope and prolong their recovery.
Their presence does this as it indirectly tells dumpees that their relationship may be salvageable if they just try hard enough and portray themselves as reliable as possible.
But unfortunately, reconciliations almost never happen that way because friendships rarely revert back to romantic relationships. There are just too many negative associations ruining dumpees' personas and preventing them from crawling back into their exes' hearts.
It's unfortunate, but it's difficult for dumpees to portray themselves better than their exes perceive them. Actually, scratch that.
It's nearly impossible for them to do that because dumpers store poor opinions and anchored emotions of their exes deeply into their subconscious mind—and hold on to them for dear life.
Such negatively-enhanced thoughts and feelings are the culprits responsible for dumpers' stubbornness. They are the constant reminders of the past.
So if your ex is stringing you along for non-romantic purposes and you're looking for reconciliation hope, know that you're most likely not going to get your ex back by becoming your ex's friend and showing him or her how many flaws and insecurities you've overcome since the breakup.
Your ex might notice your improvements and feel happy for you, but as far as romantic feelings go, they won't return that easily.
Not unless your ex still has some hope left for you and specifically told you to do your best to impress him or her.
In that case, you might have a fair chance at winning your ex's love back by changing your ways and investing in your ex.
But most breakups, unfortunately, don't work that way.
When dumpers mark you as a bad, inadequate, unworthy, insecure, or mean person—you're going to have one hell of a hard time climbing out of the deep hole that they pushed you in.
And that's because dumpers won't just think of you as a person who's not worthy of their love. They'll also do their best to keep you in that hole by throwing rocks at you whenever you try your best to climb out of it.
Due to built-up resentment, they won't let you grow into a respectable person in their eyes because they'd rather hold you responsible for your words and actions—and punish you for them.
By doing so, they reinforce their breakup decision and make certain that they see you exactly the way they want to see you – the way you were a long time ago when you made certain mistakes.
This means that even if you've grown tremendously since the breakup and no longer associate yourself with the person you used to be, many dumpers will still think that you aren't capable of changing.
They'll think that you're a collection of all the bad memories and refuse to acknowledge you for your good traits.
People can be strange that way.
We tend to hold on to the negative image of others that we've created a long time ago because viewing someone for who he or she was in the past makes us feel powerful and in control of our lives.
It reassures us that we're the good guys and that our thoughts, deeds, and behavior is justifiable.
Your ex could string you along for a year or more
There are many dumpers out there who lead their ex-partners on for a year or even longer.
They supply them with reconciliation hope on a regular basis and give them the impression that they can fix their relationship if they do something to bring the love back.
Such hope-providing dumpers, of course, don't intend to come back. They stick with their ex-partner mainly because they're bored, used to having their ex around, or afraid to be alone.
Because of their inconsiderate behavior, they basically lead their ex on even if they're emotionally unavailable or if they feel nothing toward their ex.
They just want what's best for them.
So if your ex is stringing you along and it's been months or years since you split, it's safe to say that your ex is using you. He or she wants the best of both worlds—the benefits of the relationship and the freedom of a single person.
If that's the case, you need to start following the aforementioned self-imposed rule – the indefinite no contact rule and stop your ex from stringing you along.
Your ex doesn't realize that stringing you along is hurting you.
But you do.
So put an end to pointless conversations that won't lead to a relationship and detach yourself from your ex once and for all. You'll get your old, cheerful self back and start to enjoy life again when you do.
There's no time to waste.
How to stop being strung along by a guy or woman?
Normally, I advise dumpees to cease all communication with their ex the moment the breakup occurs. By disappearing off the face of Earth, dumpees immediately start to give their ex what their ex wants (space) and in return, give themselves what they want (lots of time to gather their composure).
But when your ex continuously strings you along and your ex won't leave you alone on his or her own, then simply entering no contact likely won't make your ex stop texting or calling you.
Not the moment you pull away, anyway.
The imbalance in your friendship caused by your lack of investment will likely make your ex contact you even more and cause him or her to string you along even longer.
So to avoid that, don't just go no contact and hope that your ex gets the hint.
Instead, ask your ex not to contact you anymore and tell your ex that you've decided to move on with your life.
Upon saying that, follow up on your words and never reach out to your ex again. You have to protect your heart, recover from the post-breakup blues, and let go of your unhealthy expectations once and for all.
Not only that, but you also have personal growth to catch up on because when you were close to your ex, you couldn't see your shortcomings clearly. You likely focused heavily on obtaining your ex's recognition and neglected your happiness.
If that's what happened, put the focus back on yourself and become the best version of yourself.
Your well-being is a lot more important than an ex who knowingly or unknowingly strings you along and prolongs your suffering.
Is your ex stringing you along or has he or she strung you along in the past? What do you think about dumpers who thoughtlessly string their exes along? Share your thoughts with us below this post.