Your ex starts to miss you when you stop missing your ex. It's just the way breakups work because dumpers don't process separation the way dumpees do.
To them, a breakup is just a physical split whereas to dumpees, it's also emotional.
And that's because dumpers take their time to slowly cut through their emotional bond during the relationship with their ex.
They tend to detach from their ex without their partner's awareness.
Unless their relationship hasn't been making them happy for months or years, of course.
Whatever the case may be, dumpers don't experience pain and anxiety the way dumpees do.
The only thing they often feel worried about is their own breakup and post-breakup behavior.
This includes cheating, monkey-branching, and even feeling guilty for breaking their ex-partner's heart.
Dumpees, on the other hand, go through the most gut-wrenching experience of their life.
They first suffer from separation anxiety which takes weeks to recover from, followed by a few months of shattered confidence and self-esteem.
And when they finally get back on their feet and heal from the shock of the breakup, they usually require another half a year or so to fully digest their ex-partner's abandonment and prioritize their well-being.
It's truly unfortunate that dumpers get to walk away from a relationship without knowing what it feels like to get rejected.
But that's just the way attachment works in relationships. Those who care get hurt and those who don't—don't.
We can talk about injustice after the breakup all day long, but it really won't solve anything.
It might only temporarily make you feel better, knowing that your ex isn't improving as a person.
But other than that, you may want to move on from your ex's lack of love and seek it elsewhere.
It's the mature thing to do.
Today, we'll answer the question, "When does an ex start to miss you?"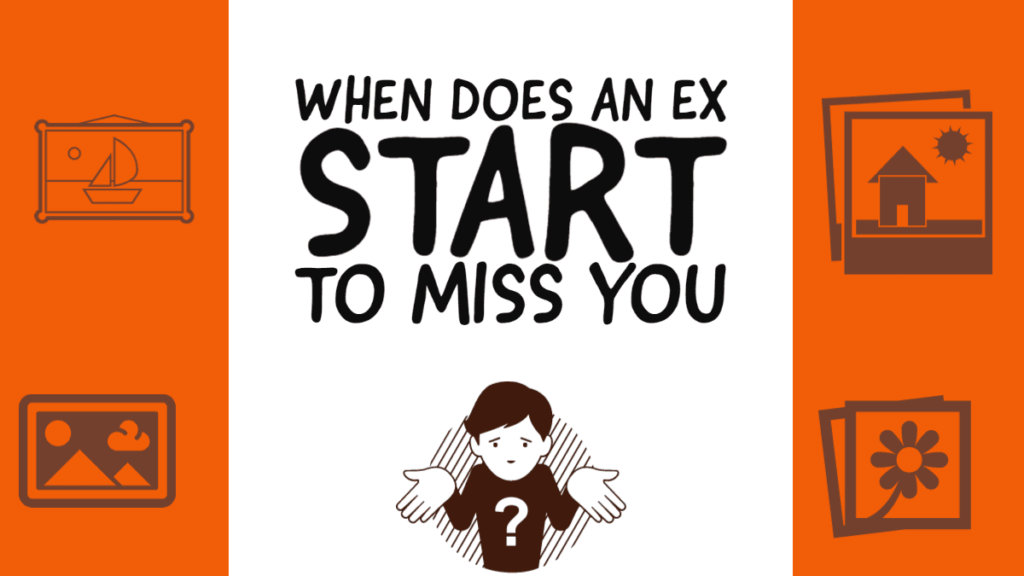 When does an ex start to miss you?
It rarely occurs than an ex starts to miss you right after the breakup. The dumper is just too busy minding his or her own business and chasing after external happiness to genuinely miss you.
He or she could, of course, miss the good memories and the things you've accomplished in the relationship as a couple, but your ex just won't miss you as a person.
If your ex loved you or missed you, your ex wouldn't have asked for space and distance in the first place.
He or she would instead continue to give you love and assurance—and expect to get the same in return.
It's the way things, such as love, care, and respect work in life. You give and you get.
It's that simple.
But since your ex isn't giving you anything, it's safe to state that your ex doesn't miss you or miss you enough.
Your ex has different plans that, unfortunately, don't include you. They are selfish plans that have everything to do with your ex and nothing with you.
So always make sure that you look at your ex's actions and not his or her words—as actions will be the messages that convey whether your ex misses you, hates you, or just doesn't care about you.
All you have to do is read them objectively.
If you're having trouble deciphering whether your ex misses you, ask the readers on this website for an honest opinion.
They don't know you, so they will be able to tell you if your ex's actions or inactions mean anything or if your ex is just looking after himself/herself.
Here are the times when your ex misses you.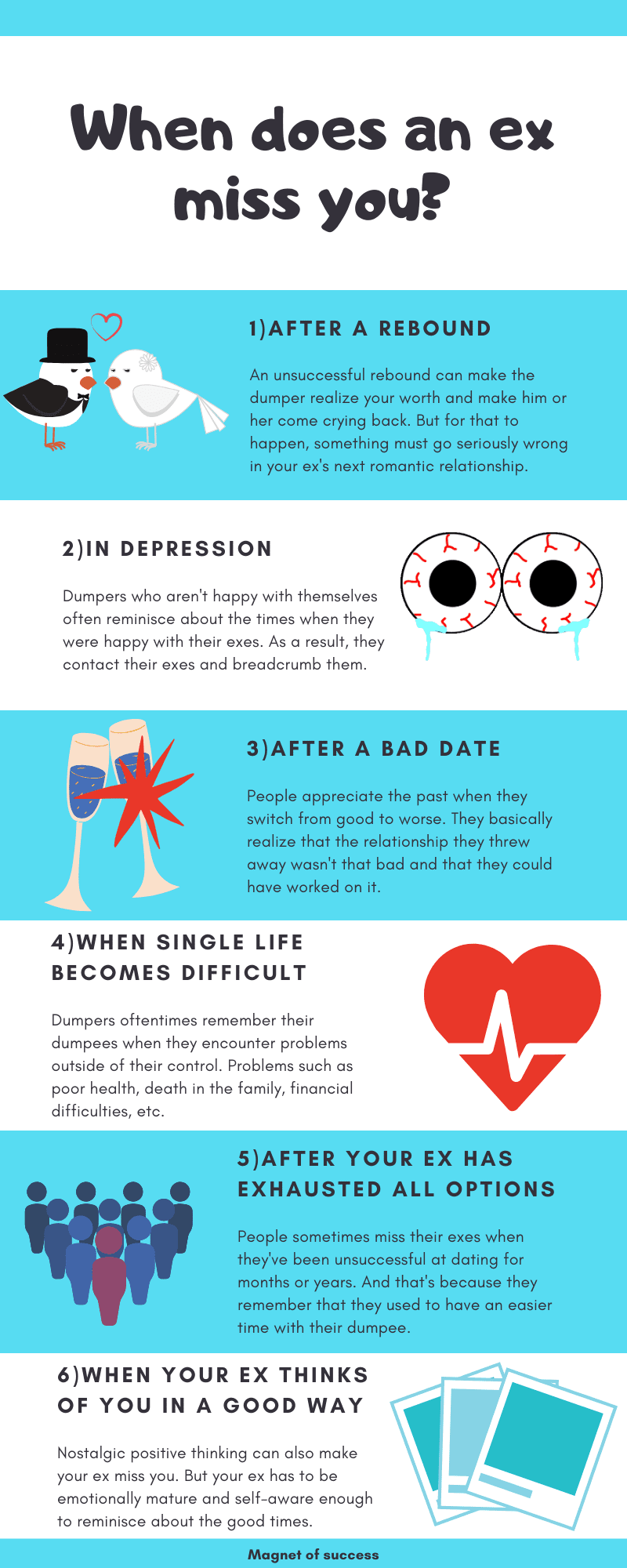 Why does an ex have to suffer to miss you?
Prior to leaving you, your ex kept thinking about you in a negative way for so long that your ex surrounded himself or herself in a field of negative energy.
This energy essentially consisted of two factors:
Poor thinking patterns.
Emotions empowered by poor thinking patterns.
Since your ex's perception of you didn't improve when your ex wanted it to—but got worse instead, your ex's negative energy kept getting bigger and bigger.
And when it got to the point where your ex could no longer control it, your ex let negativity engulf your ex.
Your ex allowed himself or herself to get consumed by the self-created negativity caused by poor thinking patterns and broke up with you.
In your ex's mind, he or she had been trying to overcome his or her negative feelings for weeks, maybe even months, but things weren't changing.
Maybe your ex told you about it or maybe your ex didn't.
It doesn't matter anymore because your ex is finally at peace and there's not a word or action in this world that could save you from the demise of your relationship.
All you can do is to accept it as there's just too much negativity blocking you from getting close to your ex to reason with him or her.
That's why you must resort to plan B and let people and circumstances out of your control to get through your ex's negative barrier and influence your ex's decision.
Sadly, the only thing powerful enough to get through your ex's defenses is energy stronger than the one your ex had created to keep you at bay.
It basically takes a horrible experience for your ex to:
drop his or her ego
get hurt
see things differently
process GIGS and get a reality check
get a taste of his/her own medicine (get dumped)
So if you're still wondering, "When does an ex start to miss you," wait for something bad to happen to your ex.
Only then will your ex's negative energy barrier face an opponent strong enough to break it.
What to say when an ex misses you?
When an ex says that he or she misses you, whatever you do, don't lose your self-control and profess your undying love.
Don't do it no matter how much you miss your ex and how badly you want him or her to come back.
The truth is that your ex doesn't deserve your reciprocation as any kind of empowerment will only suffocate your ex and provide him or her with an ego boost.
It will give your ex the moral support your ex needs to continue moving on without you and dating other people.
So instead of telling your ex, "I miss you too," ask your ex what made him or her miss you?
If your ex is honest and is having doubts about leaving you, your ex will tell you that something's happened to him or her.
This could be anything from immense guilt (if the breakup just occurred) to getting dumped by another person.
It honestly doesn't matter what happened to your ex because an honest person will tell you the truth.
And if your ex doesn't tell you, your ex will probably just say that he or she's been thinking about you recently.
By withholding vital information from you, your ex will essentially refuse to give you the truth that you ask for and show you how much he or she values you.
That's why it's your job not to discern what happened to your ex, but rather to discern what your ex wants from you.
If it's empowerment that you can provide to your ex, it's best that you don't give it to your ex.
And if your ex wants you back, then take back the power you lost on the day of the breakup and create new relationship boundaries.
Show your ex that you're in charge and that he or she needs to learn to respect you.
Dumpers who miss their exes
Sometimes dumpers genuinely care about their dumpees. But this is very, very rare.
As a person who studies dumpers' behavior, I very seldom come across caring dumpers who are so emotionally mature that they sympathize with their dumpees and offer them support.
As a matter of fact, it almost never happens.
If I had to put a percentage it, I'd say that 5% of dumpers show that they care about their struggling dumpee. And that's only if I'm being generous.
The truth is that as great and caring as people can be, they oftentimes aren't very patient when it comes to their past relationships.
They tend to have the victim's mentality and react emotionally to smothering emotions.
Perhaps it's got something to do with their upbringing. I can't say for sure.
But I do know that most dumpers who make mature decisions are over the age of 40.
Of course, 40 is just a number, but dumpers at that age seem mature enough to put themselves in their ex's shoes.
Such dumpers are usually empathetic people who have suffered heartbreak before and know what it's like to get rejected.
They know how it feels when a person you love kicks you to the curb to fend for yourself—so they strive to be better than their heartless exes.
In other words, they have personal experience, knowledge, and self-control to do the right thing.
There are also some dumpers who are depressed, unhappy with their current situation in life, or those who are forced to break up because of parents.
Such people, of course, aren't very happy to leave their partner behind.
They just feel that they have no choice but to seek happiness on their own or with someone else.
But the kind of attitude dumpers exhibit to their dumpee after the breakup really depends on how much stress and anxiety they associate with the dumpee.
If it's a lot, they oftentimes start hating their dumpee even if they broke up for reasons outside of their control.
And if they don't hate their dumpee and appreciate his or her personality traits, then they sometimes miss the dumpee and breadcrumb him or her for months.
Sometimes even years.
Why is my ex telling me that he/she misses me?
Dumpers who tell their exes that they miss them and disappear shortly after usually do this for a few reasons:
To relieve their guilt.
To use their ex for validation.
And to string their ex along.
But if you're also wondering, "When does an ex start to miss you after the breakup" the answer is "when your ex wants you back."
When something goes wrong on your ex's end and when your ex becomes nostalgic about your positive characteristics is when your ex starts to miss you.
And not a second before.
If your ex is with someone else and says that he or she misses you, your ex doesn't really miss you.
Your ex misses the role you played in the relationship and the benefits you provided to your ex.
Furthermore, if your ex says that he doesn't know what he's doing and that he loves you, he doesn't actually love you.
What your ex loves is his guilt-free pre-breakup state that felt a lot calmer than the mess he put himself in.
So once again, pay close attention to your ex's actions and forget about your ex's words.
Just like ideas, words don't mean anything if actions don't follow.
Your ex doesn't miss you as long as your ex is an ex!
I know this may sound strange, but dumpers usually don't want anything to do with their dumpees.
They're too busy enjoying their lives without their ex to miss the dumpee.
It sucks, but most people just don't care much about their previous romantic partners.
Of course, some are great friends even years after the breakup, but most of them tend to be either in love or at war.
The same goes for your ex.
If your ex shows no sign of romantic interest in you, your ex is over you completely.
Your ex has no remaining romantic feelings anymore because your ex had lost the will to fight for you and made a conscious decision to leave you behind.
All that's left (provided your ex is self-aware, mature—and you didn't beg and plead) is respect.
But even respect can dissipate into thin air if you don't leave your ex alone to process the breakup at his or her rate.
When your ex misses you, you will hear from your ex
It's no secret that dumpers' breadcrumbing has a purpose — to extort some kind of information from the dumpee.
This information aims to give them strength, assurance, and validation—so be very careful when your ex appears out of nowhere and apologizes/misses you.
Be very careful not to interpret your ex's outreach as your ex missing your personality, but rather as your ex missing the parts of you that can benefit his or her emotional weaknesses.
You will know this is the case when your ex reaches the nostalgia stage of a break-up for the dumper and shows you genuine signs of regret.
But if your ex doesn't want you back and is merely breadcrumbing you, your ex will likely apologize for:
cheating on you

ignoring you or not speaking to you

spreading rumors
the way your ex broke up with you and treated you after the breakup
Please keep in mind that when an ex starts to miss you, he or she will attempt to crawl back into your life.
Your ex will show you genuine signs of concern and care.
So pay close attention to your ex's actions to determine whether your ex came back just to take from you or if your ex wants you back for you.
What to text your ex-boyfriend/girlfriend when you miss him/her
As the dumpee, you should never text your ex and tell him that you miss him.
You shouldn't leave voicemails or post vague quotes and images on Facebook either.
Since your ex is not in a relationship with you, your ex doesn't want to know that you miss him.
He just wants to move on and leave everything behind. It's what the separation is all about.
If you're the dumper, however, and you "miss your ex," then you shouldn't text your ex either.
Messaging your ex just to tell him you miss him won't validate your ex. It will reopen his breakup wound and make him analyze your message to infinity and beyond.
So keep your thoughts and emotions to yourself and let your ex heal as he's probably in no contact right now, recovering from the damage you've caused.
Keep in mind that the only time when you should message or call your ex is when you regret breaking up with him and want him back
Did you enjoy reading this article? Did it answer the question, "When does an ex start to miss you? If it did and you want to share your opinion, leave a comment under this post.