If you're wondering "when do guys start to miss you after a breakup," I may have the answer for you.
I have been studying guys' post-breakup behavior for a while now and I believe I've come to the conclusion.
This research is not much different from when the girls miss guys. The only exception I noticed is that girls tend to come back more often for security.
As for guys dumpers, they start to miss you when they realize their life isn't getting any better without you.
They become nostalgic and miss you when they understand that they no longer have the support they used to get from you on a daily basis.
That's when they often reach out to you, apologize, and try to obtain validation from you.
So if you're curious about when do guys start to miss you after a breakup, this is the article for you.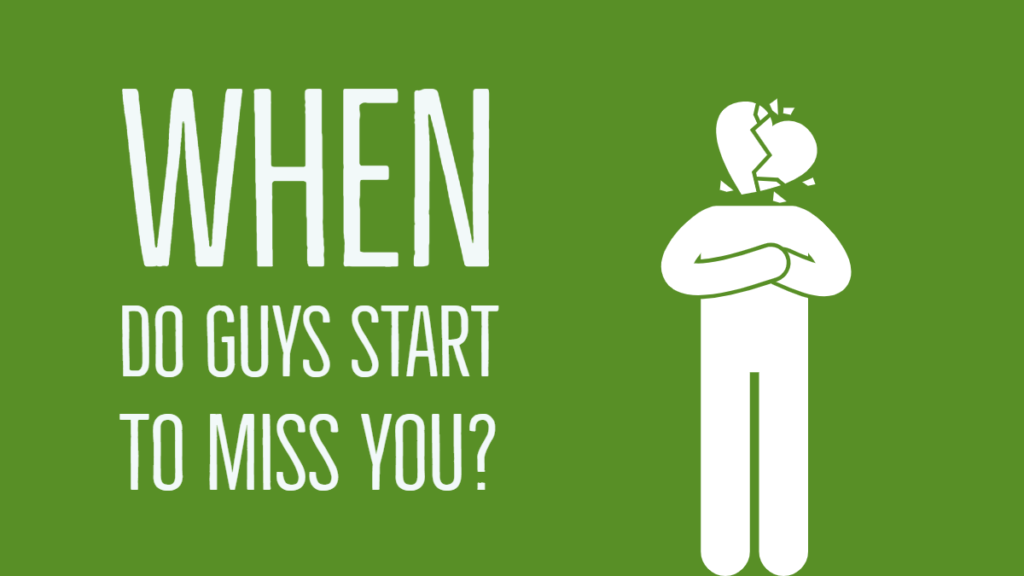 How long does it take for a guy to miss you after a breakup?
If you're curious about when do guys start to miss you after a breakup, please understand that it takes some guys weeks and others months or years to miss you.
From my observations, there are 3 types of dumpers that miss you quicker than the rest.
The first type of dumper that misses you fairly quickly is the depressed type.
This kind of male is incredibly unhappy with himself and often comes back after a week or two.
But when he notices that his relationship isn't making him internally happy, he usually leaves again and stays separated until he misses his ex again.
As his longing for the dumpee continues, and he keeps coming and going, the depressed dumper eventually realizes that he can't be in a functioning relationship with the dumpee for as long as he's depressed and unhappy.
And that's when he leaves for a long time. Maybe even forever.
The second type of guy dumper that misses his ex is the indecisive type. This is the guy that doesn't know what he wants.
He likes his dumpee for who she is, but can't commit because he wants to see what else is out there.
To him, it's not about working on the relationship, but rather about catching the right person.
He just isn't in love with the dumpee as much as he'd like to be, so he usually goes out and dates for a while until he realizes that the new people aren't any better than his long-term ex.
That's when he comes crying back at full speed and professes his undying love and commitment to the dumpee.
The last type of dumper that misses the dumpee is the insecure type. He comes back when he's feeling so insecure (jealous) that he can't let go of the dumpee.
He's so afraid that someone else will take his spot that he demands full control of the breakup.
But unfortunately, this kind of reconciliation often doesn't last very long because it lacks the fundamentals of a healthy romantic relationship.
Love is one of those lackings.
Guys start missing you when you stop missing them
The guys who don't come back after a month or two need more time to miss you.
How much more nobody knows.
But they probably need so much time that you'll stop missing them altogether by the time you hear from them.
You must remember that dumpers are usually completely over you and need a reason to miss you.
This reason can be:
failing at dating
bad emotional/physical health
losing friends and family
financial issues
loss of job and security
anything that hurts them
Guys start to miss you after a breakup when they're having a hard time dealing with their stressors.
The more pain and suffering they go through, the more they will think back to when they didn't feel this bad.
And that's when they'll say they miss you—and expect you to soothe their anxiety and give them your validation.
This is the reason why waiting in no contact is all you can do to make your ex miss you.
It's the best plan to let your ex roam freely and allow him to experience life on his own or with someone else.
Do all guys miss you during no contact?
The guys who have their lives figured out and don't rely on their romantic partners for their well-being, probably don't miss you.
They are the guys you will get a booty call from or hear from only when they're bored and have no one else to talk to.
That's why it's crucial for you to understand that emotionally strong and independent guys probably won't miss you.
At least not as much as you'd like them to.
They can't miss you when they're living a healthy, stable life without you in it.
They'll instead focus inwardly on themselves and the people they deem as important—and do whatever makes them happy.
And that's exactly the kind of mentality you have to develop as well.
You must establish your own priorities and seek internal happiness within yourself.
But for you to do that, you have to start getting over your ex first and live your own life again.
It's the only way not to miss your ex anymore and hopefully make your ex miss you one day when things go south on his end.
How to make guys miss you
You already know that the indefinite no contact rule is the only way to make your ex miss you.
It's so effective because space and time away from your ex can have a healing effect on him.
Provided your ex is somewhat mature and understands his emotions, the no contact rule could help him gain respect for you again.
The reason for that is that guys need a lot of space right after the breakup. They need so much of it that they would beg for it.
And if you provide them with it, they could admire your:
high emotional intelligence
confidence
high self-esteem
respectful behavior
priorities
There's truly no better way to make your ex miss you than to respect yourself more than you respect your ex.
This is also a cure for personal long-lasting happiness.
So if you've got the cure to be happy, chances are your ex will want some of that cure too.
He just has to become ill first. 😥
My ex says he doesn't miss me
Some guys will blatantly tell you they don't miss you.
If your ex said that, it's time you distance yourself from your ex and show him that you respect yourself.
You must immediately begin following the rules of no contact and stay true to them at all costs.
Your ex probably said he doesn't miss you because he lacks the space to breathe after the breakup.
Maybe he even found someone else already and needs space to date that person.
Whatever the case, he needs weeks if not months of distance to think and feel better about you.
So give your ex what he wants or he could quickly turn cold and start hating you.
The only way to let your ex breathe is to immediately stop all contact with your ex and leave him to himself.
When your ex says he doesn't miss you, you've got a sign he doesn't want you around.
That's why he probably won't contact you for a while when you go no contact.
And that's a good thing!
It will take your ex quite some time to miss you after the breakup.
But you already know that he can only miss you when you're gone. So let him go for now.
And if he finds someone during no contact who doesn't make him as happy as you did, then that's even better for you as it could bring him back quicker.
So why not focus on the things you can control in the meantime and prioritize healing and recovering from the breakup?
If your ex has a change of heart in the future, you will hear from him.
Trust me.
You don't have to sit around and wait for him to miss you while you miss him like crazy.
It won't suddenly make your ex want to talk to you and need you in his life.
Not when you're in frequent contact with your ex and demand attention from him.
My ex is too stubborn to contact me
This is something I hear all the time. That's why it's time we get to the bottom of it.
Although a lot of people are more stubborn than a bull, it doesn't prevent them from reaching out.
Even if they think they're right and you're wrong, dumpers need to be left alone for long enough to want to talk to you.
I've previously conducted a survey and came to the conclusion that 90% of dumpees will hear from their ex in the future.
And chances are that you're one of them.
But if your ex absolutely won't contact you because he's too stubborn, then here's a question from me to you.
What were you thinking when you dated such a stubborn person?
Surely you weren't very very happy in a relationship with someone you couldn't compromise with. He probably frustrated, angered, and depressed you more than you're willing to admit.
"Yeah, but I loved him despite his flaws," you might be thinking.
Although he might have been lucky to have a partner such as yourself, I can't say the same for you.
You most definitely weren't happy serving this person's needs and you certainly wouldn't be happy if he came back.
You'd get the exact same ex-boyfriend that he was when he left.
So if that's who your ex was and is, I'd be happy he's gone if I were you.
Just give it some time to detach.
You'll no longer want him to miss you when you realize he's not worth your time.
What if my ex never misses me?
If your guy dumper never starts to miss you after the breakup, it's okay!
You'll be fine without your ex—and will even be glad that he never missed you and got back in contact with you.
Since you'll know you deserve way more than he can offer, you'll be glad he's gone.
Eventually, you'll realize that your ex wasn't your knight in shining armor and will instead put yourself first.
But for you to stand up for yourself, you'll have to stop missing your ex first and find passion in life again.
Just note that it might take you months and months of self-prioritization in no contact to accomplish that.
And that's why there's no time to waste!
Every second of your health counts so make sure you give yourself the love you deserve.
Once you get to the point where you no longer miss your ex, you won't even care if your ex misses you.
You won't care if he started dating someone else right away or if he's happy without you.
You'll become too self-focused to care about someone who abandoned you and left you with months of anxiety.
So don't worry about whether your ex misses you right now—because the less your ex misses you, the easier he makes it for you to detach from him.
Did you enjoy reading this article? Did it answer the question, "When do guys start to miss you after a breakup?" Are you curious when your ex will start to miss you? Comment below and let me know.