As the proverb says, that which is meant for you will always find its way back to you no matter where you are and what you've done. It will eventually gravitate toward you and you won't even have to lift a finger.
You'll just have let it go, focus on yourself, and if it comes back to you, it's yours forever.
The saying says so, anyway.
The truth is that if you love something and that something doesn't love you back, you should let it go. You should part ways with it because stressing about something or someone who's no longer accessible to you is pointless and self-destructive.
It's a waste of time and energy, so focus on more productive things that are available to you right now.
If you choose to obsess about your troubles and hope that things turn around, you could get caught in an overanalyzing, neverending cycle of pain that makes you incredibly dependent on positive results.
And since there's a big possibility that those positive results never manifest themselves, it means that you could eventually get disappointed and suffer immensely.
Your unrealistic expectations would make sure of it.
If you take just one tiny piece of information from this article, please memorize that obsession created by (false) hope is very, very bad for your well-being.
The hope you search for may feel empowering at first because it gives you a sense of control, but it doesn't necessarily make you feel better in the long run.
It usually makes you feel worse because it raises your expectations and pushes you to think that you can feel better as long as things take a turn for the better.
Hope is, therefore, very conditional. If you get what you want, you feel better. And if you don't, your world comes crashing down on you.
So instead of staying hopeful about something you really, really want, practice acceptance instead. Tell yourself that you may not get the results you want, but that you accept them nonetheless.
In this way, you'll practice acceptance, forgiveness, and self-love—and let the law of allowing give you positive results no matter what the results actually are.
And don't worry that you'll simply give up on your desires without a fight and that you'll settle for less than you deserve. By accepting bad results, you'll only make certain that poor results don't destroy your emotional well-being.
You'll essentially protect yourself from getting hurt and avoid falling in depression.
In this post, we'll talk about why you should let it go when you love something or someone very much.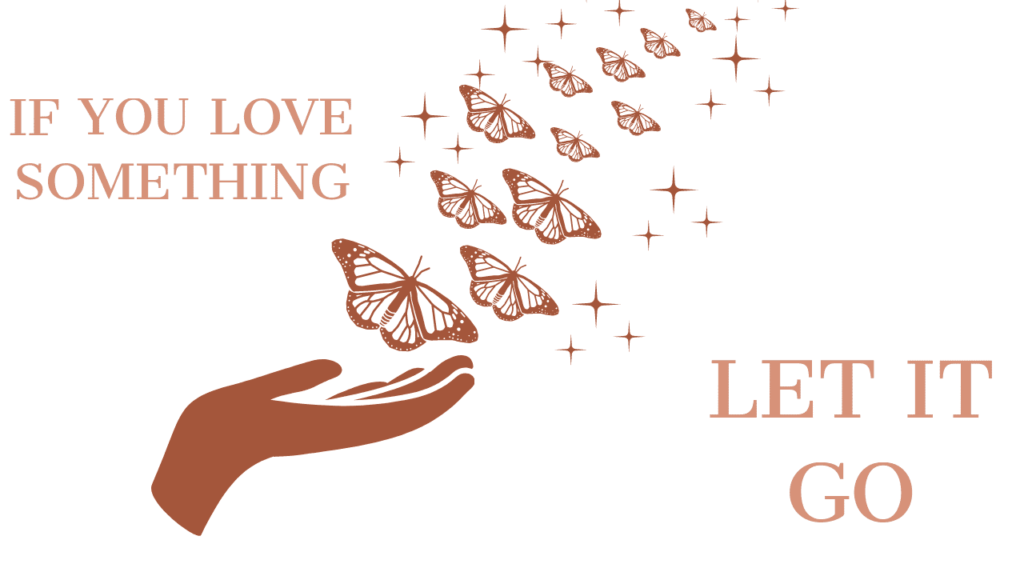 Hope can be great, but it's very conditional!
If you're one of those people who believe that staying hopeful about certain things in life is a good thing, you're probably right. Hope can be very empowering as it can give you the motivational boost required for your success life.
It can inspire you to reach new heights.
But the unfortunate truth is that many people hope for things that are out of their control.
They hope that their cheating ex-partner who left them for someone else comes back and commits to them.
Or they hope that they win the lottery and get out of debt.
Keep in mind that hoping is okay. But it's okay only when you have a predetermined goal in mind and you know exactly what you want and how you're going to achieve it.
If you can't see changes and improvements coming your way in the near future and you can't control the circumstances in your life, accepting your situation and becoming okay with good, bad, or mediocre results, therefore, is the best thing to do.
It's best because you don't want to stay hopeful about something that may or may not happen. At some point, it's time to prioritize your emotional well-being and regain your independence.
The quality of your life depends on it.
On that note, please remember that hope can be a good thing. It can be good when you know you're going to get a degree in your desired field of study and work toward it.
Hope can also be good when you plan to lose weight and aspire to live a healthier lifestyle.
But it can't be good when you desperately pray for something or someone to take mercy on you and give you something you don't have or can't get on your own.
If you love something, let it go! Don't hold on to it!
First of all, letting go doesn't mean that you give up on something you really want (unless it's unattainable or self-destructive). It means that you detach yourself from the negative outcome and become okay with unwanted results.
If it's exams you're worried about and you're experiencing killer anxiety, letting go of high expectations will help you prepare yourself for the worst.
It won't make you uncaring or lazy as some people may think, but it will lower the amount of anxiety you allow yourself to feel.
I'd learned this lesson when I was still in college. One day I felt extremely anxious about my upcoming presentation, so I decided that I don't want to worry about unimportant things in life anymore.
I told myself that worrying isn't going to change anything, so I prepared myself as much as I could and went on stage with a "whatever happens-happens mentality."
Needless to say, it worked like a charm which is why I've been using this self-empowering technique ever since.
I use it when I work, talk to strangers, and even when I visit the store during this Coronavirus pandemic. I know that worry and stress don't hurt others. They hurt me.
Whenever you feel anxious, I strongly encourage you to ask yourself, "What's the worst that can happen? Is my life going to end or be negatively affected? If so, how is worrying about it going to help me?"
Soon, you'll probably realize that your life won't come to an end and that stressing about it is not worth the stomach pain and sleepless nights. It's especially not worth the trouble if you can't do anything about it.
So even though you may not be able to control the issue itself, there's still plenty you can do about it. You can decide how much hope you put on your stressors by rationally and emotionally convincing yourself that life is too short to worry about trivial worries.
Here's Earl Nightingale's authoritative estimate of what most people worry about. See which category your problems fit in.
| | |
| --- | --- |
| Worries | Percentage |
| Things that never happen | 40% |
| Things over and past that can't be changed by all the worry in the world | 30% |
| Needless worries about our health | 12% |
| Petty, miscellaneous worries | 10% |
| Real, legitimate worries | 8% |
If you think about it, 92% of all worries are unnecessary worries that you don't possess the power to do anything about.
All you can do is embrace them as a part of life and carry on as if they don't exist.
Here's why you should let go of everything that is bad for you.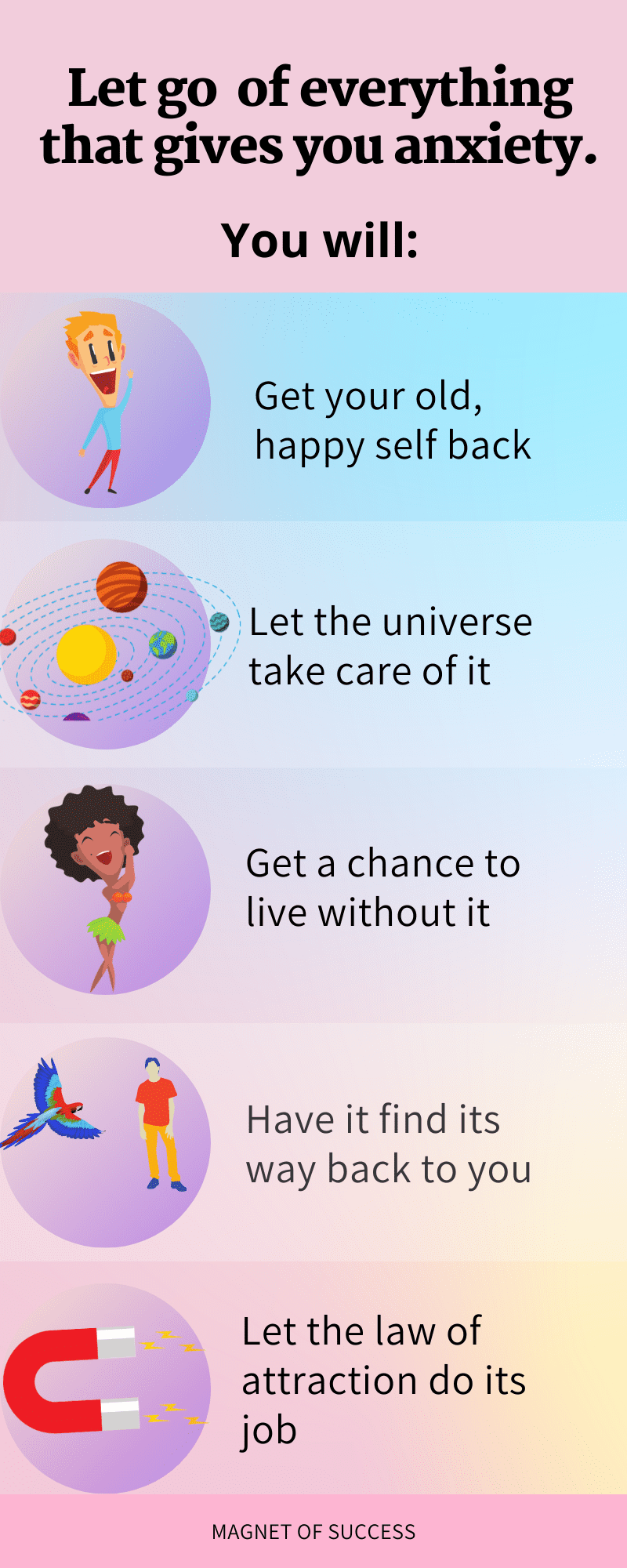 Let go of everything that no longer serves you in a positive light
By letting the things you love or don't love go, you'll free yourself from chains that keep you in the past and grow as a person.
You'll open your heart up to new possibilities and experience happiness again.
This is why you should identify your stressors – everything that hinders your growth or recovery and learn to let go. Let go of everything that affects you negatively and detach yourself from its negative effects immediately.
You may find it difficult to leave it all behind at first, but that's okay. Just because it's difficult doesn't mean that it's a bad idea. The truth is that if it's difficult and you're anxious about it, it's even that much more important that you let it go.
It's important that you put some distance between reality and expectations so that you can take a deep breath and see things from a clearer perspective.
When you do that, you might even realize that a little bit of distance was all you needed and that you can finally enjoy your life the way you deserve to enjoy it.
There are many things you need to let go of, starting with people and unrealistic expectations that hurt you and prevent you from being your true self.
It doesn't matter if you're still in love with a person and have high hopes that he or she comes back. It doesn't matter if you want something so badly that it gives you stomach ulcers.
If you want to be happy (which you should), you should cut off the stressors in your life that you lack the power to do anything about. By getting rid of them, you'll do everyone a service.
If your ex broke your heart, you'll give him or her the freedom to be free and yourself a blessing of a lifetime. You'll do the bravest thing you can do and finally heal from heartbreak.
If you still doubt as to whether you should let a person go, please remember that you can't forcefully bring people back to you. By holding on to them, you can, however, smother them ane prolong your suffering and their desire for space.
So let go of everyone who doesn't appreciate your presence anymore. Let go of acquaintances, partners, ex-partners, friends, and yes, even family members.
Someone who loves you will never betray you, seek alone time, and appear happy without you. He or she will show you how much you matter to him or her.
Here are a few things you shouldn't hesitate to let go of if you want to be happy.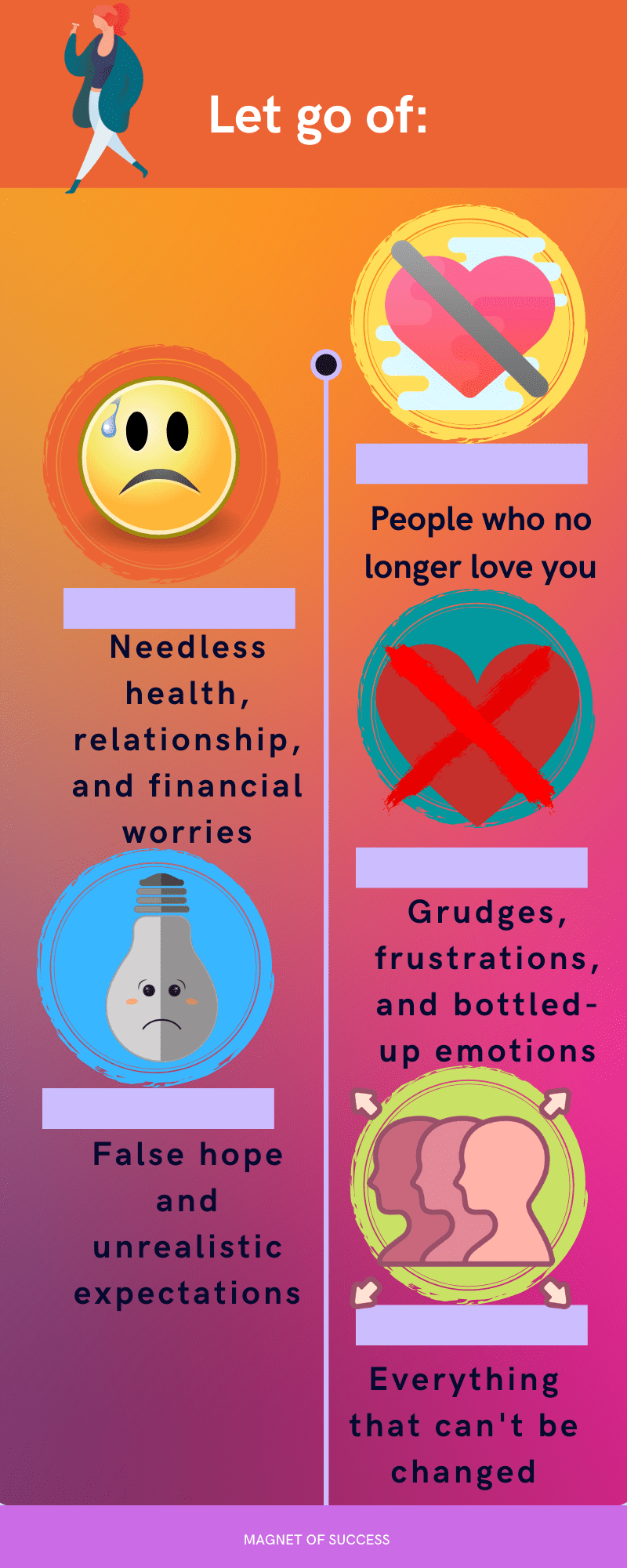 Basically let go of everything you can't change or influence with willpower and effort. Let go of it completely and your worries will soon fade away.
Take my word for it.
Why is letting go so important?
Staying hopeful about something or someone you have no control over is much more dangerous than letting it go and forgetting about it. It's dangerous because hope alone doesn't accomplish anything.
All hope does is that it prolongs the inevitable (that which is going to happen whether you worry or not) and causes more pain and suffering in the long run.
People who stay in denial and refuse to let go oftentimes develop psychological issues. They unknowingly create deep-rooted trust issues and experience anxiety attacks that make their life a living hell on Earth.
Such people put so much hope on something they love that they get stuck in the past and refuse to let go. As a result, their lives lose meaning and they become codependent on external factors for happiness.
If you notice that you're anxious about something you love and you can't seem to let go of it, I strongly suggest you seek professional help.
Consult a person specialized in mental health and figure out why you're having difficulty letting go.
You might realize that it's got something to do with your upbringing and/or with the circumstances that shaped you into the person you are today.
How to let go of something/someone you love?
Letting go of something you really, really want takes time. It's a process that requires understanding, patience, and self-love.
So before you start, it's necessary for you to understand that letting go of something or someone who hurt you won't happen overnight. In fact, the emotions you invested will require some time to dissipate, so don't expect immediate results.
If you invested 10 years of emotions in someone and that person cut you off, ghosted you, or cheated on you, he or she triggered separation anxiety in you. That person cut the supply of daily happy hormones, which is why you've gone cold turkey and now need time to recover.
You'll first have to deal with devastating pain, let go of expectations of him or her coming back, knock him or her off the pedestal, and last but not least, find happiness on your own again.
Depending on your personal strength and the ability to distract yourself, this could take months. It really depends on how much this person has hurt you.
If it's a lot and you're starving for validation, it will probably take you at least 8 months to fully recover. It might take even longer if it's your first breakup.
But don't let that discourage you. Most people have to let go of someone who leaves them at least once in life. I'm one of those people too. So if I could let go of someone I loved, so can you!
Affirmations to let go of something you love
If you love something and it no longer serves you the way you want it to serve you, let it go. Detach yourself from its negativity consequences and look forward to life without them.
A great way to do this is to practice positive self-empowering, moving-on affirmations.
You can speak them out loud or keep them to yourself if you'd like. It doesn't matter how you use them as long as you believe that they work and put emotion into them.
If you don't believe in their effectiveness, I can tell you that they won't do you any good. They'll waste your time.
So put your heart into them and take them seriously.
Here are some letting-go affirmations you can start using today. Practice them multiple times a day for maximum effect.
The past is in the past. I am moving forward.
From now on, I care only about things and people that are important to me.
I love myself too much to worry about something/someone that is no longer a part of my life.
Life is too short to stay miserable. I am going to stay positive and move on with my life.
I'm letting go of everything that is not meant for me.
Everyone makes mistakes and so did I. I was able to grow because of them—and I'm happy that I did.
I'm grateful for everything positive in my life. That's why I'm staying positive for myself and everyone who loves me.
I can feel myself letting go of unhealthy attachments. I'm regaining my old self back.
Practice these affirmations and they'll help you let go of something you love. Just stay positive and work on letting go of the notion that you can still salvage your situation.
If it's a person you're worried about – a toxic friend or an ex, remind yourself that things unfolded the way they did for a reason. You and the person in question weren't on the same wavelength for a while, so you cut the bond and went separate ways.
Nobody knows if the person who chose to walk away from you will change his or her mind, but it's okay. That's the least of your worries right now because you have a responsibility to look after yourself.
You've got to do what's best for you and distance yourself from the source of pain.
If you love something other than a person, however, something like a job or a house, simply accept the fact that they're gone for now and tell yourself that it's not the end of the world.
Tell yourself you're going to be okay.
Life is full of unpredictable events, but fortunately, you get to decide how much they weigh you down by the kind of thoughts you think.
If you think positive thoughts and accept negative occurrences as a part of life, the pain will be significantly lower than if you were to cry and wallow in despair.
I know that despair's gravitational pull can be extremely difficult to run away from once you're in it, but it's not impossible.
If you gather willpower and force yourself to think and feel positive emotions—and practice self-love every day, you should gradually regain control of your life and dictate how you feel.
As Earl Nightingale said, "We become what we think about." So think letting-go thoughts and find inner peace by accepting reality for what it is.
Is there something you love and you want to let it go? Is it a person? Let us know what or who you're trying to let go of by leaving a comment below.