The most difficult kind of breakup is when parents don't like your boyfriend or girlfriend.
It's so difficult because the people who have been with you since the very beginning are sort of expected to be supportive of your romantic life and the decision you make in life. In a way, their validation provides assurance and acceptance while their rejection of your partner does the opposite.
If your parents don't provide proper validation, love, and care from an early age, you may develop an anxious or an avoidant attachment style.
And if this carries into adulthood, you may suffer from a lack of love and develop your own relationship difficulties that otherwise wouldn't be present.
Furthermore, if your family tries to force you to break up with your partner, you may find yourself in dilemma choosing between the people who have given you life and your boyfriend or girlfriend.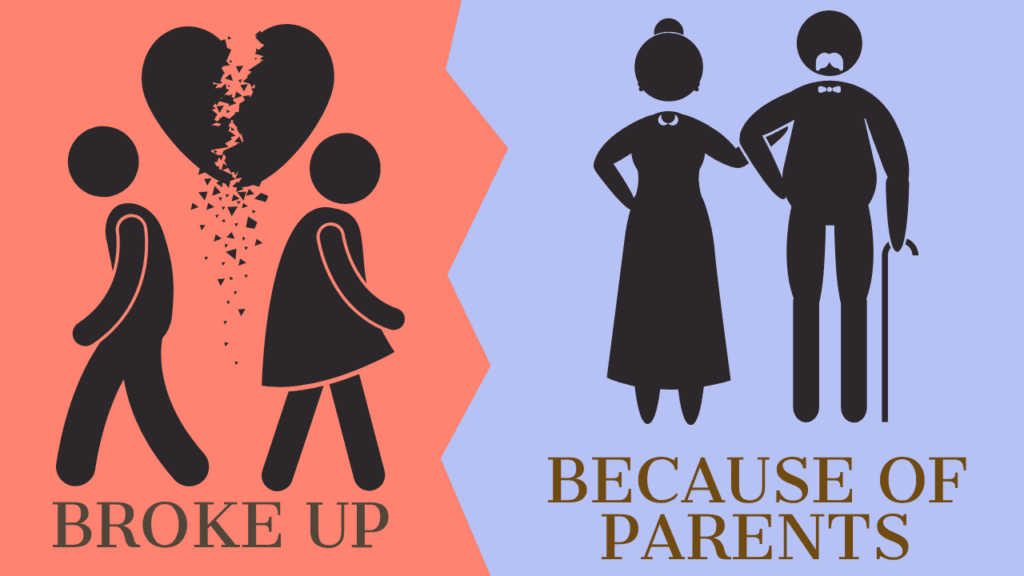 Forced breakup because of parents
If your parents don't like your fiancé, fiancée, boyfriend or girlfriend, the situation is often really difficult and frequently—even hopeless. That's because things may quickly escalate to the point where you have to decide between your family or your partner.
Now, if you have a family of your own already and you're with the person you love, then the decision is a no-brainer. You will always choose your wife/husband and the kids over your parents' judgment.
But if you're still young (let's say in your 20s), then your parents might have a final say. This, of course, depends on your cultural and religious background as well as the kind of relationship you have with your parents.
If your family is the one making the decisions about who you can date and be with, then, by all means, listen to them. They are the ones who will approve or disapprove of the person you're seeing so there's nothing you can do about that.
This kind of parenting regime is quite common in South Asia, but it nevertheless, also exists all around the world.
Moreover, it's not just the South Asian families who sometimes control the fate of their children's relationships and marriages. It's American and European families too.
My parents want me to break up with my boyfriend/girlfriend
In some countries, parents make important relationship decisions so it would be wrong for me to advise you to go against your parents.
The most you can do is to try to reason with them and explain how your boyfriend or girlfriend is right for you and how he or she will contribute to the family.
Provided your partner is truly good for you and doesn't hurt you or anything like that, then most of the time, families will accept the person you're dating.
But if they don't accept him or her, and your partner is actually a good human being, and you've been with him or her for a long time, then things could get ugly.
Since disapproving parents usually stand by their decision that you should break up with your partner, relationships like this almost never end well.
Whenever your parents pester you, they put unnecessary stress on the relationship and make your relationship with the person you love unbelievably hard.
The person you're dating feels extremely unwelcome and probably hates your parents' rejection and possibly even them. That's why it's really difficult for your partner to want to stay around your parents who hate his or her guts. It's difficult even if your partner loves you to the moon and back.
I personally know how it feels to be rejected by parents because I've been there before. It doesn't feel one bit exciting and I can say that I never want to be in that position again.
In fact, it's so horrible I'd made the promise to myself that I'd rather be with someone whose family approves of me. In this way, I'd save myself the unnecessary drama and the desperation to win their approval.
Winning parents' recognition
If you're a reader of the blog, you likely already know that winning somebody's recognition is the most degrading thing ever.
Everybody in this world deserves a fair chance based on their internal factors. People should be evaluated for the people they are, not the external fortunes they possess.
Sure, having a job is important when you want to get married and have children, but this alone doesn't make a person truly valuable. Not to the right people anyway.
For example, you are not going to live your life happily with someone just because he or she is a doctor. On the contrary, you are likely going to get in a thousand arguments with this person because of various different incompatibilities and contradictory points of view.
Disapproving parents that want you to break up usually first see the person's social and financial status. Everything else is hidden from view as no one but the couple can discern each other's personalities—which should always be #1.
Just how you deserve very little credit for who you are, so do your parents. They are who they are based on the society they grew up in, the parenting, their own mentality and many other factors that have very little to do with them.
People usually form an opinion of another person in mere seconds. They visually determine if the person is appealing, how his or her body language is and the way they speak. These 3 things we obtain very quickly, hence why the first impression matters so much.
Changing this first impression, however, takes time. If the person said something appalling in the first minute, for example, then we may despise the person so much that we will never give him a chance to redeem himself or herself.
The same can be said for parents that have formed their own beliefs about the person they want you to break up with.
How to get your parents to like your boyfriend/girlfriend?
Getting your parents to like your boyfriend or girlfriend is hard, but not impossibly hard. It really depends on how open your parents are and how well-versed are at persuading people.
Sometimes, you just need to sit them down and explain to them that the person you're seeing is wife/husband material. You need to show them your commitment to the person and your utter dedication to take the relationship to the new level.
If explaining to them and showing them that you love your partner doesn't get your parents to like your partner, on the other hand, then nothing will.
It can be difficult to talk to your parents if they are arrogant, ignorant and hard-headed. It can also be difficult to accomplish much when your parents hate your boyfriend or girlfriend for no apparent reason.
Some people are impossible to reason with so even if you try your very best and show them everything they need to see, they could still be against the relationship.
That's because some people are controlled by a high ego and would rather take a butt-whipping than admit they were wrong.
Parents can also be so stubborn that nothing changes their mind. In such cases, your relationship may be completely hopeless even if you've done everything right from beginning to the end.
Some people just can't be influenced.
Period.
Parents are forcing me to break up
Chances are your parents will never be happy until you break up with your boyfriend or girlfriend. No matter how much you beg them to be happy for your happiness, it might never happen.
In that case, you have a decision to make.
Sometimes keeping both your parents and your partner is not possible and it's truly a horrible feeling.
You can either choose to be happy with the person who loves you and wants a relationship with you or to listen to your parents and let your partner go.
Although the middle ground – to keep your parents and your partner sounds like the best option, you may not be able to go down that route when your parents are giving you an ultimatum.
They expect you to do as they say and find someone more to their liking as if it's them who are going to spend their life by your side.
They are nonetheless, always going to support you, but they won't wake up next to you and get old with you.
Choosing between your partner and your parents
Casting your parents aside sounds like a horrible idea and most people don't do it. They will instead argue with their parents for a while and eventually give up on the person they love.
Not only will they give up, but they will completely lose attraction because their parents will have ruined their relationship for them.
They will argue with their parents so much and so often that they will end up believing their parents in the end and might even end up hating their partner.
The dumper often becomes cold and distant as a result of a breakup. And the breakup caused by parents is no different. The dumper could act as if it's the dumpee's fault the breakup occurred and may appear very mean and disinterested in his or her (ex) partner.
So if you're in a position where you need to decide between your partner and your parents, I wish I could help you decide. Unfortunately, all I can do is tell you how I see things.
My humble opinion
It's not for me to decide for you, but I'd like to share my thoughts on this matter. Please note that my opinion may not apply to all regions of the world as I am from the western part of the globe.
So if parents had been deciding who their children marry in your family for generations and generations, then using my advice would be impossible and likely extremely impolite toward your family. Please keep that in mind.
My personal belief is that parents can be amazing guides as they almost always give good relationship advice. Moreover, I also think that they should always support their children's romantic decisions as long as their children are content and of mature age.
Their personal experiences and wisdom can often help their children overcome many difficulties and make their lives many times easier.
Just how parents don't always agree with us, we don't always agree with them. We may not agree with their taste in music, food, favorite places in the world and other things that are a matter of preference.
But there are some things we should not oppose for the sake of their happiness and at the same time—our own.
We can't disapprove of their religion, strong beliefs, visual appearance, new partner, choice of friends (unless they are harmful), etc. We must remember that their personal lives are theirs to live.
So just how you shouldn't oppose your mature parents' private life, neither should they disapprove of yours. Provided you're an adult, you are more than capable of making your own decisions, hence why you were given a brain of your own.
If you commit a horrible crime, you will be defending yourself at the court. Your parents can't serve their time in jail for you.
So if the love you feel toward your partner is genuine, then your parents should never have the power to try to force you to break up with your boyfriend or girlfriend.
Personally, I think it's very, very wrong for loving parents to go against their sons and daughters and take their happiness away just because they don't get along or don't like their partners.
To me, it seems very selfish and disrespectful toward you as a person who had made the decision to be with the person you love and invested emotionally in him or her.
Such parents are essentially telling you to detach from the person with whom you want to spend your life with and pretend as if he or she never mattered.
Just because they are parents and hold a special place in your heart doesn't mean they have the right to abuse their power and force you to break up.
They can give you their opinion and tell you why your relationship may not be the healthiest for you. But apart from that, it's not their concern.
I know I sound very biased and extremely against disapproving parents who want their sons and daughters to break up with their partners.
Perhaps that's because my parents have always approved of the girls I've dated and entrusted me with the decision-making to take care of myself—which I did.
I may not have always chosen the best partners for me, but I had to learn that myself.
It's as if you buy a box of candies and your parents tell you that the red candies taste bad and that you absolutely can't have them. They make the assumption that their judgment is absolute and that they really don't want you to think for yourself.
So even if you tasted the red candy before and you liked it, some parents might still insist that it's not good because they don't like it. They simply expect you to respect their dictatorship.
Everybody has their own way of thinking and this is merely my opinion.
The ultimate decision will always be up to you to make.
Are your parents forcing you to break up with your boyfriend, girlfriend, fiancé, fiancée, husband or wife? What are you going to do? Comment below.