The saying, if you love someone let them go is very true because if a person stopped loving you, you should stop loving that person too. It doesn't matter why the relationship ended and whose fault it is.
All that matters is that you let go of a person who wants to leave so that you can focus on people who love you/deserve your commitment.
If you try to force a person to stay in your life when he or she clearly doesn't want to, you could cause a lot of complications for both of you.
You could suffocate the person you love, make him or her angry, and in the end, become more dependent on that person for recognition and self-love.
I know it's not easy to let go of someone you love. Heck, that's an understatement because letting go is one of the hardest things people have to do.
But if you don't let go when you have a chance to let go, you could not only damage the relationship with the person you love but also ruin your self-esteem and self-respect.
This is something that you don't want to happen as you don't want to get hurt/depressed and stay fixated on the past for years. You want to move on from the past so that you can forget about people who abandoned you and meet new like-minded people who contribute to your life.
Keep in mind that some people aren't meant to stay in our lives. Some come into our lives just for a short while to teach us valuable lessons. Lessons that we should accept people's choices and put ourselves first.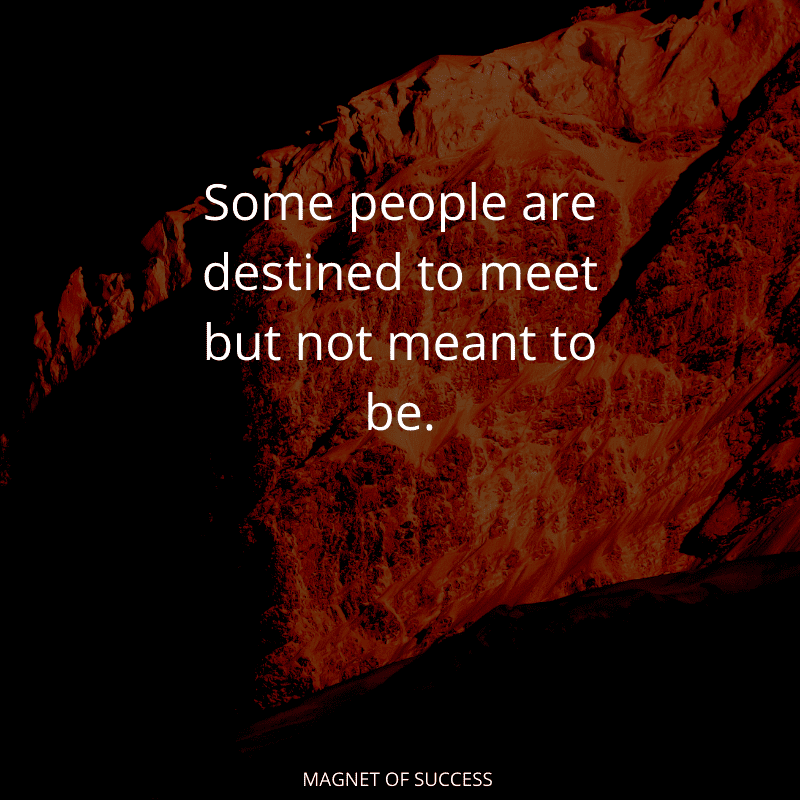 So before you start to doubt yourself as to whether you should let go of someone you've loved for months, years, or your entire life, know that letting go is almost always a good idea.
It's a good idea because it helps the person leaving you to get the space he or she wants and helps you to heal from the pain that the person's abandonment has caused you.
It's a win-win for both.
This article is for everyone who believes or wants to believe that if you love someone you should let them go.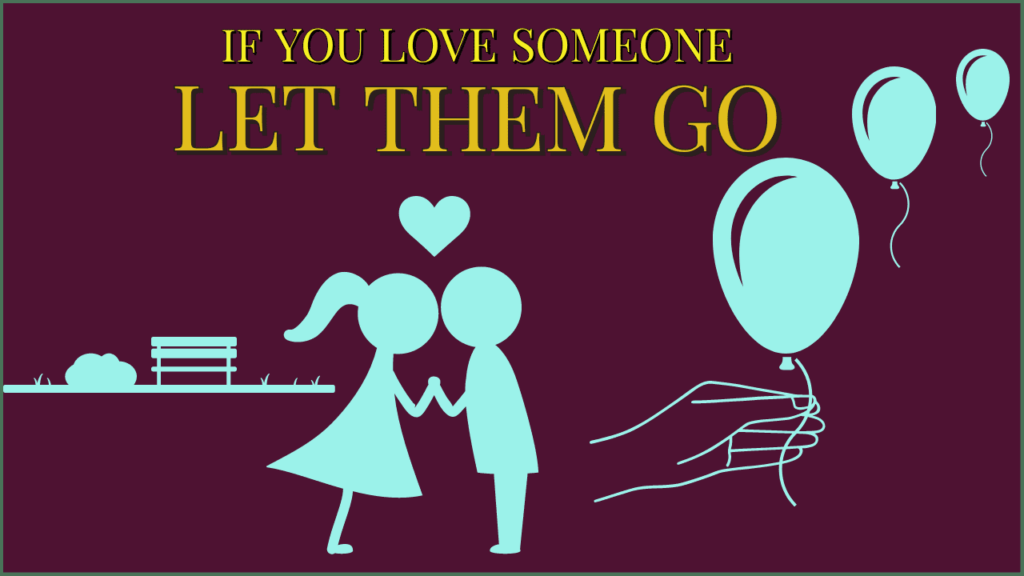 If you love someone, let them go
True love is not about your wants, needs, and cravings. It's about wanting someone you care about to be happy even if that person doesn't feel the same way about you and wants you gone.
It's incredibly heartbreaking hard to let go of someone you love when you've invested time, money, emotions, and your future into this person. But that doesn't mean that you should force your way into another person's life and demand to stay in it just because you did a lot for that person.
That won't solve your problems.
All it will do is show the person that you lack respect and self-respect, and as a result, bring some kind of reaction out of him or her.
The reaction you elicit will depend on the way this person perceives you and reacts to smothering emotions, of course. But if you keep portraying your unsightly, demanding side and don't consider this person's feelings, you can be certain that the reaction will be either bad or neutral.
Either way, you won't be happy with the feedback you receive, so you may as well not stick around to see how little you mean to the person who abandoned you. You're better off learning to let go.
Let go of your expectations.
Let go of trying to impress people.
And let go of everything holding you back from moving on and enjoying your life.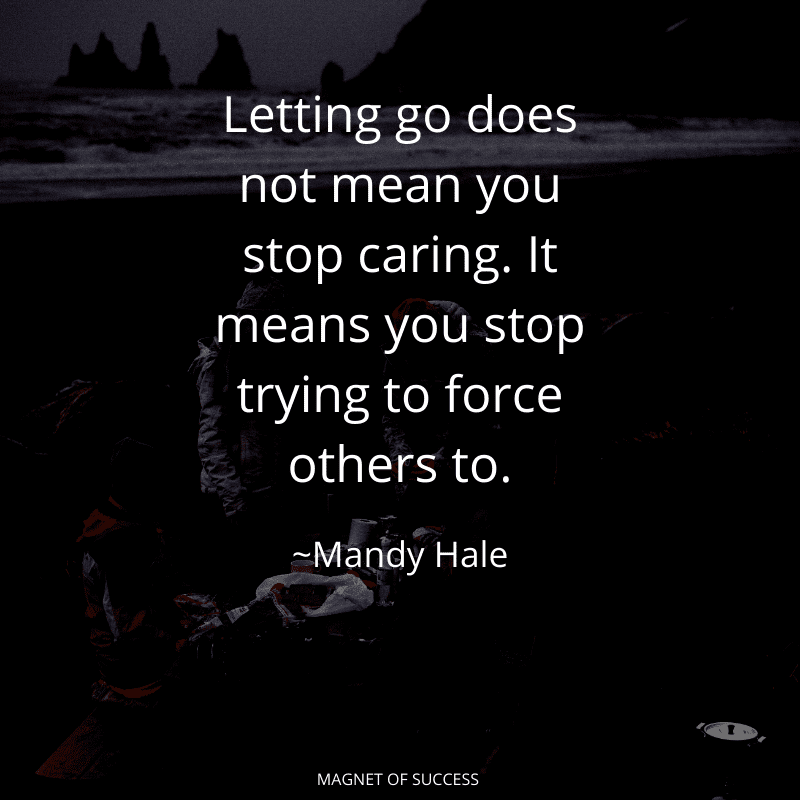 You deserve love. And if a person doesn't want to give you love, you shouldn't beg for it either. It should come to you on its own out of respect for the person you are.
Why is it necessary to let people go?
If you love a person and that person doesn't love you back, letting go is your only option.
This is because the person who's given up on you doesn't want you to fight for his or her love to the death like in some Hollywood movie. In real life, he or she wants only three things from you:
To accept that the relationship is over.
To stop convincing him or her to come back.
And to mind your own business as anything he or she says and does after the split is no longer your concern.
If at any point in time, the person who left decides to come back, rest assured that you'll be the first to hear about it. You'll receive a message or a call and be asked to meet up.
I've seen this happen many, many times. People who come back realize that they used to be happier inthe past and that they've made a hasty decision to leave.
That's why all you have to do is sit tight and do your best to let go of the person who left you.
I know that you're afraid of detaching from the person you love because you think that the person will move on without you, but the truth is that refusing to let go is way more dangerous than keeping your one-sided love alive.
In fact, it's so dangerous it could cause you long-term psychological, mental, emotional, and physical problems and make you terrified of another abandonment.
It could make you develop trust issues.
Here's why the saying, "If you love someone let them go" is so important.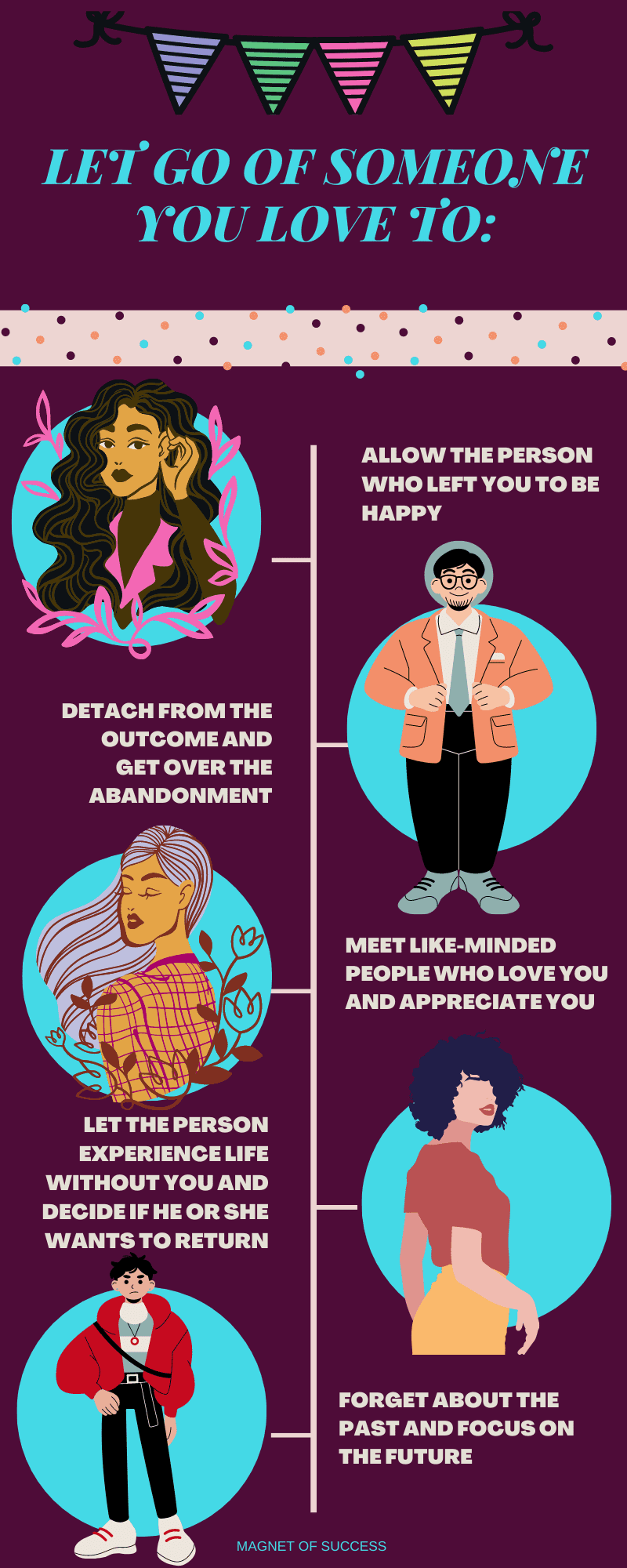 So if you're in a position where your well-being is at risk and you're wondering if you should let go of someone you love, the answer is always yes.
You should let go of anything and anyone who no longer serves you so that you can attract things and people that contribute to your life.
This is not a selfish thing to do. It's incredibly brave and self-caring.
Will letting go bring a person back?
No one can say for sure if letting a person go will bring him or her back, but the reason why letting go is your most reliable course of action is that it provides the person who left with lots of space and time to think.
It allows him or her to be as free as the bird, and at the same time, shows him or her that you put yourself first.
This may not seem like a lot if you just got abandoned, but weeks, months, or years later when this person encounters difficulties, he or she could remember that you handled abandonment well.
That's when this person could apologize for leaving so abruptly and indirectly ask you to help him or her feel better.
All you have to do until then is to let go of all the expectations you have of this person and make sure to remain strong and confident in his or her eyes.
You can do that simply by accepting the abandonment and learning to live with the consequences.
How to let go of someone you love?
Letting go is not just about how good you are at accepting the outcome.
It's also about how developed you are as a person (personal strength, thinking patterns, experiences, mental health), how you perceive yourself (self-esteem, confidence), and how you contribute to the world (ambitions, passions, social life).
These are the areas of your life that could make letting go of a person you love easy, difficult, or extremely challenging. It all depends on how you think and what you have going on in your life.
For example, if you have low self-esteem, you'll most likely blame yourself for another person's actions and suffer as a result. You'll be in a lot of pain as you'll have a difficult time convincing yourself that you'll find someone as reliable as the person who left.
But on the other hand, if you lack ambitions and passion in life, then you'll probably have too much time on your hands, so you'll think about your ex, friend, or family member most of the time and drive yourself crazy with could-haves and should-haves.
If you want to let go of a person you love as quickly as possible, you'll have to self-reflect on your life and discover which parts of your life are not as great as you'd like them to be.
Once you've found your weaknesses, you'll then have to invest in them so that you can get the person who abandoned you out of your head and make sure that the person you think about the most is you.
Letting go affirmations
Here are a few affirmations that could help you accept that the person you're emotionally attached to is gone.
I'm feeling stronger by the minute.
I feel myself detaching and falling in love with myself.
This person isn't going to be the end of me. My life will go on.
I can't control another person's thoughts and actions—and that's okay!
It's important that I accept this person's decision and move on.
I must keep moving forward. Life is too short and precious to waste.
Some relationships are not meant to last forever. Ours was here to teach us valuable lessons.
Change is always difficult, but it's necessary for my growth.
I need to let go of the person who doesn't love me so that I can make room for new people.
I'm going to be okay. I know I will.
I did everything in my power to make things right. Now, it's time for me to rest and let the universe take care of my situation. If it's meant to be, it will be.
Practicing these affirmations multiple times a day will slowly but surely convince you're not responsible for chasing after quitters and that you're going to be okay whether they come back or not.
You just need to want to move on and time will take care of the rest.
If you love someone let them go, and if they come back, they're yours forever
You've probably heard this realistic, yet slightly hope-giving phrase.
If you have, it's because it's common. Its intention is to help you let go of someone you love and at the same time, give you a little bit of hope so that you don't have to go cold turkey.
In all honesty, the part "If you love someone let them go" is definitely true as there's no point in holding on to the past. As some people say, the past needs to stay in the past.
But the second part "If they come back, they're yours forever" may not always be completely true.
People who come back, unfortunately, don't always stay. That's wishful thinking. Oftentimes, they come back, stay only for a little while, and then leave again to do what they want.
This is because people who return don't always learn to appreciate us. Many times, they come back simply because they're out of better/healthier options. They don't know what to do or who to turn to, so they quickly run back to people they used to have a meaningful connection with and try to restore that connection.
This is also why such people don't learn and improve much. They merely do what they must to stop feeling lost, hurt, nostalgic, guilty, or depressed and ignore the need to work on themselves.
So don't think that a person who comes back will stay with you forever. He or she could come back just to:
heal
obtain validation
relieve guilt and nostalgia
and to not be alone
Of course, there are people who realize they've made a mistake and stay for good, but such people normally undergo a series of difficult experiences in order to improve their mentality and appreciate what they had.
So to conclude, before you open the doors to someone who left you, make sure that the person has learned his or her lessons. Make sure that he or she has come back for you and that the story will not repeat itself.
Do you agree with the phrase "If you love someone let them go?" How do you deal with abandonment and the pain that comes from it? Leave your comment below this post.